ComponentOne GanttView for WinForms is a complete project management tool that delivers an MS Project-like user experience with its support for the .NET platform. It is a respected control among programmers working on product management software (according to Top 5 Dynamic Gantt Chart Components for Software Developers). From a list of tasks, durations and constraints, it can automatically generate a schedule diagram, which can then be manually edited through tabular grids, dialog boxes, and click and drag action on bars within the chart pane.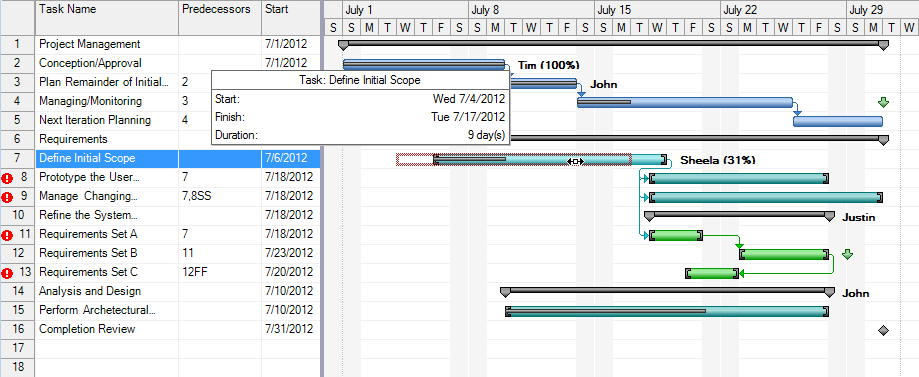 User-Controlled Scheduling
The C1GanttView control can automatically generate a schedule from a list of tasks, durations and constraints. Or users can edit task information manually through a tabular data grid, input dialogs, or by clicking and dragging bars within the chart pane. It supports both Automatic and Manual scheduling modes like Microsoft Project. Automatic scheduling provides a highly structured, systematic means of managing project schedules. The project can be scheduled either from the start or from the finish date. When you enter a start date, C1GanttView schedules the first auto-scheduled task to begin on that date, and calculates the sequence of auto-scheduled tasks that follow. If you enter the finish date, C1GanttView schedules the final task back from that date, and then it schedules the task before the final task, and so on, until the first task is scheduled and the project start date is calculated. C1GanttView can calculate the earliest or latest dates for tasks to complete the optimal schedule. Manual scheduling is the default mode, which gives the greatest flexibility and control over planning and managing the task schedule. With manual scheduling the C1GanttView control does not automatically configure start and finish dates of tasks.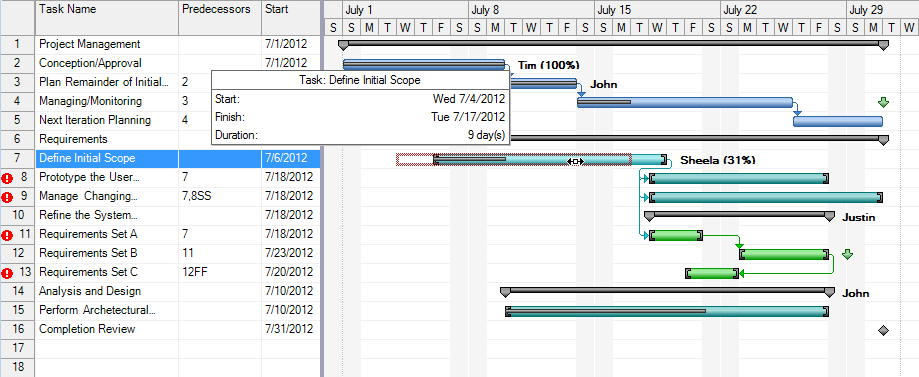 Calendar and Time Scale Configuration
Calendars can be created and saved with custom calendar settings that specify working weeks, times and exceptions. C1GanttView defines the default working and nonworking days for scheduling both manually and auto-scheduled tasks. C1GanttView supports very flexible time scheduling including customizable work weeks and calendar exceptions with powerful recurrence patterns. Manage the time scale by specifying the date/time format for up to three tiers through the run-time dialogs.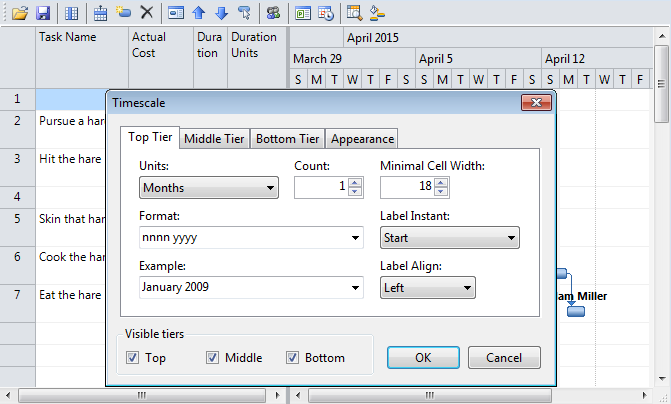 Task Constraints, Predecessors and Resources
Manage everything about your tasks. Set constraints on start and end dates, assign predecessors (or dependencies), and assign any number of resources to a task. Everything is visual and user friendly. For example, dependencies are displayed as arrows between task bars and those dependencies can be set via drag and drop. Validation also alerts users when conflicts arise.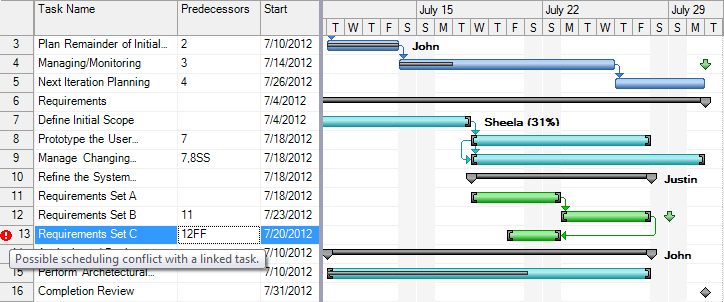 To summarize, you should use C1GanttView because it is
User Friendly
Saves time and effort
Flexible and powerful
Download the C1GanttView control right now to add awesome-ness to your project management project.