The Silicon Valley Code Camp was an incredible site on the weekend of October 5 and 6 in California. It is the largest Code camp in the world! I presented my new session on Building a Windows 8 app from scratch highlighting the ComponentOne Windows WinRT controls. It was well received. Over 2000 developers attended this great event and the vendors were in a courtyard outside in beautiful weather all weekend with a non-stop flow of traffic. Every developer should put this code camp on there list of events to attend in the future. This area of the country is a true melting pot of technology. In my very first conversation, I learned 5 new acronyms!
I interviewed several influentials at the code camp, so stay tuned to see those interviews on future Russcam episodes. I attended an outstanding session on Azure Mobile Services by Scott Guthrie and he sure has a knack for making things look incredibly easy. I will be using what I learned in his session on an app I am building for .NET Gurus can Cook to access the data and videos from Azure. I am really looking forward to trying it out and sharing the code when I am done!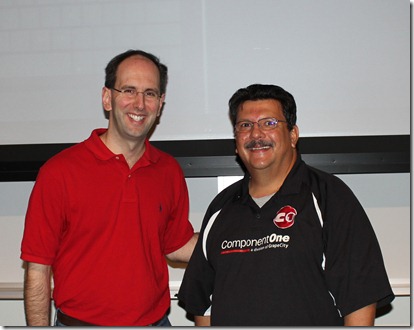 Russ Fustino catches up with Scott Guthrie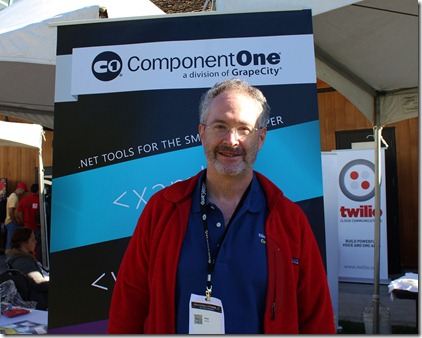 Event organizer Peter Kellner stops by to interview on RussCam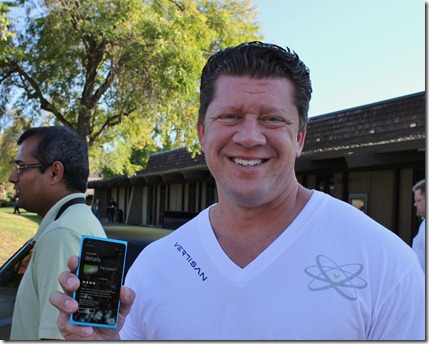 CEO James Vertisan shows off his top selling game on the Phone 7 – Golf Caddie, one of three showcase vendor apps available on the Nokia Windows Phones.
See more photos of Silicon Valley Code Camp.
Technorati Tags: azure,scottgu,vertisan,silicon valley code camp,svcc,#svcc,peter kellnerr