ComponentOne is proud to be a major sponsor at two events to kickoff the 2013 MVP summit on Feb 17, 2013. If you are an MVP attending the event, make sure you visit our booth for lots of goodies!
1) Party with Palermo hosted by Jeffery Palermo
Registration: http://pwpmvp2013.eventbrite.com/# .
Red Robin, Bellevue 408 Bellevue Way Northeast Bellevue, 98004-5002
Sunday, February 17, 2013 from 7:00 PM to 10:00 PM (PST)

Booth: Meet ComponentOne Senior Developer Evangelist, Russ Fustino and get on RussCamTV!
2) First Time MVP welcome Party hosted by Joseph Guadagno
Registration: http://1sttimemvp2013.eventbrite.com/#.
Rock Bottom Brewery and Restaurant 550 106th Ave NE Bellevue, WA 98004
Sunday, February 17, 2013 from 7:00 PM to 10:00 PM (PST)
Booth: Meet C1 Influencer, MVP Michael Washington!
Meet ComponentOne's MVP C1 Influencers who will be hanging out at both parties. See their bios here.

MVP, Michael Washington
MVP, Craig Berntson
MVP, Kevin Griffin
MVP, Jay Harris
MVP, Joel Cochran
ComponentOne's RussCamTV will be at Party with Palermo, with some great interviewing and photo taking. If you are attending this conference, and would like to be interviewed on RussCamTV please drop me a note , especially if you have experience using Wijmo with HTML5 and jQuery or the Windows 8 Controls Studio for WinRT XAML . I would love to hear about it, plus I will give you a copy of ".NET Gurus Can Cook!" V2, signed!
See C1 RussCamTV Video interviews from Party with Palermo 2012
Episode 44 with Jeffery Palermo and Ted Neward
Episode 45 with Nikita Polyakov Trinidad and Brandon Kelly
Episode 46 with Martin Hinshelwood, Christopher Bennage, Keith Kabza, Mike Benkovich and Steven St. Jean
Episode 47 with Caleb Jenkins, Dave Noderer and Pat Tormey
Here are a few photos from last year's Part with Palermo event.
Sponsored by ComponentOne… makers of Wijmo.
[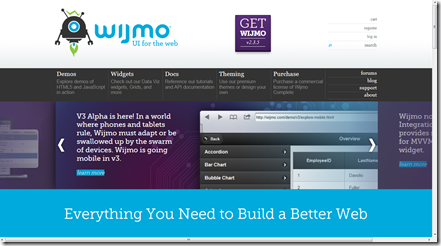 ](http://marketdash.componentone.com/redirect.ashx?rdtl=1249)
Attendees, check out ComponentOne's HTML5 tools at www.wijmo.com
RussCamTV will be there!