Yes. you heard it hear first on the RussCam Blog , the Tampa Windows Phone User Group (WPUG) now with a new twitter account - @WPUGTampa , is nearly sold out with a room capacity at 100. Get ready for a special meeting with James Vertisan. We currently have just 6 spots left for a sell out! Register at: Http://www.wp7ug.com . The meeting will be held tomorrow night, Tuesday, at the Tampa Microsoft Office, May 21 from 6-9pm . James was one of the core members of the original WPUG Tampa and was part of our huge show and tell meeting on 7/26/11. James is now a Millionaire and is going to share his success and tips. James has the top selling app for the phone, and if you love Golf, check out his apps on the Executive Caddie site. We have several give a ways, including from ComponentOne, C1 Ultimate, from James: 2 Microsoft Surfaces, Several Windows Phones and from Nokia, via Bill Reiss, Southeast Nokia Ambassador…. 1 Lumia 920 4 Lumia 800s 2 Cyan Nokia Purity Ear buds (Nokia's version of Beats audio) 5 Nokia Premium Developer Program tokens Some T-Shirts and 8-bit sunglasses Pizza and soda sponsored by Nokia DVLUP and Vaco. I have not said this in a while but, "Be there, or be talked about."

WOW!! @RUSSCAMTV will be recording this session in its entirety! PS. ABC News might, just might, be there! .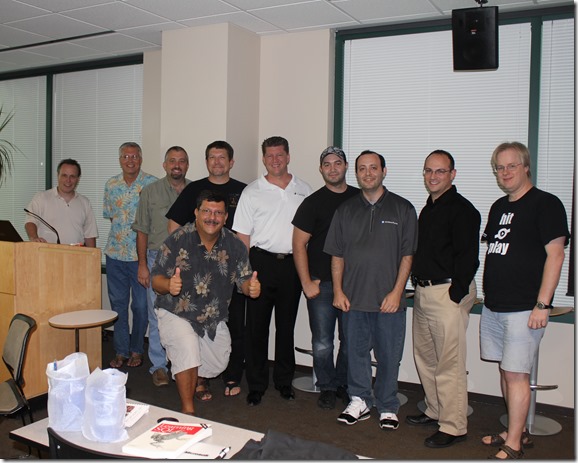 Photo is from the 7/26/11 Windows Phone User Group Tampa, (@WPUGTampa) these were all the presenters that night, in a show and tell night. Left to right: Bill Reiss, Jim Blizzard, Kevin Wolf, Michael Stark, James Vertisan, Alex and Luis Perez, Brian Kassay, and Jay Kimble (In a GrapeCity "hit play" classic shirt!) and yours truly in front, Russ Fustino, Tampa Windows Phone UG Founder and President and Windows 8 Key Influencer. NOTE: New location - Tampa Microsoft Office Abstract: We have a very special and unique Tampa Windows Phone User Group (Tampa WPUG) meeting planned being hosted Microsoft, tomorrow on May 21 from 6-8 (note: new location, we will not be at FirstWave). The speaker is James Vertisan. He has the #1 app for the windows phone (SHOTLY) and it's also in the apple store. He's become that entrepreneur that many app developers strive to be. He's become a millionaire, and works between Tampa and Silicon Valley. He has mastered app development. His story is incredible and he's very passionate about entrepreneurs in Tampa. He will discuss how to turn an app into a company, plus how to create a viable business model and raise capital.
Register at: Http://www.wp7ug.com