FlexReport is our most lightweight and fastest reporting tool, in particular for small reports, and it's also twice as fast as C1Report. FlexReport is a a new and revamped C1Report and has been designed to be as compatible with C1Report as possible.
FlexReport's FlexReportDesigner application offers an import option that allows you to import a Crystal Report (.rpt) file to a FlexReport (.flxr) file in just 5 basic steps. The resulting FlexReport layout is easy to work with and provides rich options to further enhance reporting capabilities—even more than C1Report.
How to Convert Crystal Report to FlexReport
It's Simple!
Open C1FlexReportDesignerApp.exe.
Go to File -> Import
Choose Crystal Report (.rpt) file you want to convert.
Choose File -> Save As
Give the name to the ComponentOne Studio FlexReport file (.flxr).
And you're done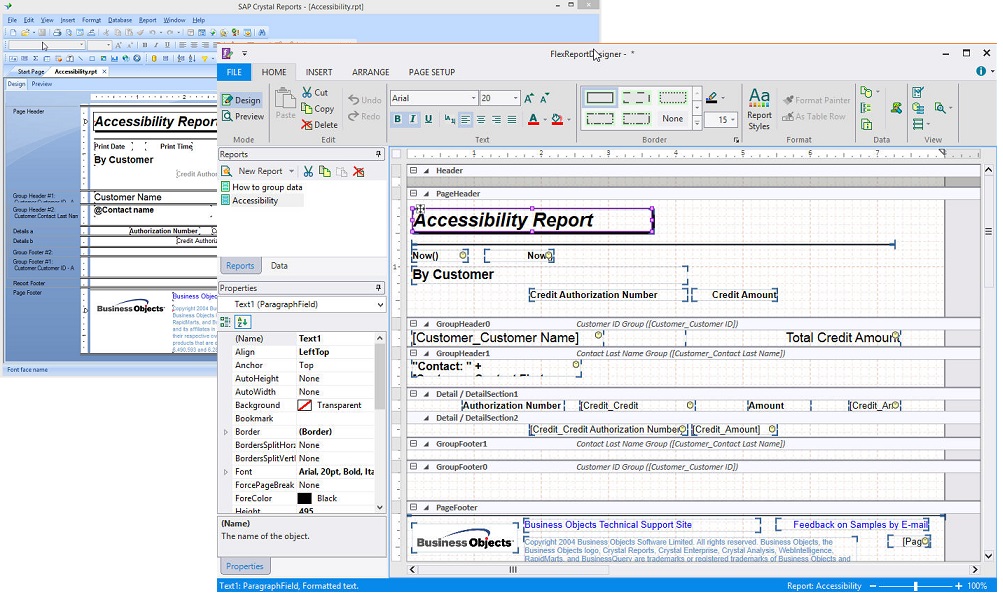 System Requirements:
Make sure your installed version of Crystal Reports is compatible with your version of Visual Studio.
If Crystal Reports 2013 is installed on your system, you'll need to change the database path manually to run the report after importing.
Supported Crystal Report Features
Page Header
Group Header
Detail
Group Footer
Page Footer
Report Footer
Fields
Textbox
Chart
Box
Line
Picture
Subreport (needs manual correction of path)
BLOBField (Picture)
OLEObject (Picture)
Database Field
Special Fields Time Formats
Page Numbers
Features
Complex combining Text+Database Fields+Aggregates
Grouping
Summary Fields
Percentage Aggregate
Textbox Formats (Currency, Date etc)
KeepTogether (Fields, Sections, Subsections, Groups)
Multiple join queries
Hyperlinks
Text Rotation
Formatting
Text Formatting
Borders
Backgrounds
Enhanced FlexReport Features
FlexReport offers more efficient and flexible usability than Crystal Reports with a hierarchy of FlexReport Fields with a common base. Features like subsections, additional chart types, new visual properties like Borders and Background, easy-to-add Sort Expressions, improved filtering, multiple data sources, and rich UI options in the FlexReportDesigner application make designing reports much simpler than before.
Unconverted Crystal Report Features
These features will not yet convert to FlexReport. We expect to have them available in upcoming 2016 releases.
Fields: Table, CrossTab, OLAPGrid, Map, Flash, Cross-section controls, Formula Fields
Scripts: Suppress property scripts, complex script expressions, custom functions
Features: Specified order grouping, alerts, parameters, complex expressions (text and parameter Fields), hierarchical grouping
Properties: Drop Shadow
Successful Conversion of Standard Crystal Reports Samples
Import of the following Standard Crystal Report Samples provides 90% success rate on previewing them with FlexReport.
Accessibility.rpt
Alerting.rpt
Group.rpt
Mailing Label.rpt
Since the architecture of FlexReport and Crystal Reports differs, the extent of the conversion depends on what you're using in Crystal. You may want to do some modifications in the report after import to FlexReport so you can take full advantage of FlexReport features. Try the import for yourself and let us know how it works for you! *All product and company names herein may be trademark of their respective owners