It's hard to believe Wijmo is another year old! Wijmo is six years old, and Wijmo 5 is officially two years old. Last year I wrote up a five year history of Wijmo, so this year, let's look at Wijmo 5. It's been a great year for Wijmo as our product line has matured. We've seen wide adoption among some incredible enterprises like Microsoft, Apple, Tesla, Thomson Reuters and ESRI. These companies are utilizing Wijmo 5 and saving countless hours of time. It's been great to work with them and adapt Wijmo to their needs.
While the first year of Wijmo 5 was about building a core set of controls and collecting customer feedback, the second year of Wijmo 5 was about expanding our controls based on customer needs. Let's look at how Wijmo has grown.
Wijmo's Interop Support
Wijmo 5 has zero dependencies and can be used on its own. At the same time, we know that many of our customers will choose a framework in which to build their applications, so we decided from the beginning to build interop libraries in Wijmo that offer deep integration with popular frameworks. Wijmo 5 first shipped with Angular 1.x and KnockoutJS support, and the Angular 1 interop has been wildly popular with our customers. The great thing about our interop libraries is that you're using the same components across any framework (or none). In fact, we have customers that are now migrating their Angular 1 applications to Angular 2 while using our same controls. This year, we decided to fully commit to Angular 2 support as well. Our team has done an incredible job of keeping up with the Angular 2 team, and we shipped support for Angular 2 just hours after it officially released. We also think that we have the best data grid for Angular 2 in the industry. Another popular framework in ReactJS. We recently released full support for ReactJS in Wijmo and created quite a few samples using the two together. While Angular has been a favorite here, ReactJS is definitely appealing in its own way. Lastly, we've had requests for supporting a brand-new framework called VueJS. Naturally, we released support for VueJS (1 and 2) so that our same controls can be used in nearly any JS framework.
Wijmo's Flex Philosophy: Extensions
Another key aspect to Wijmo 5 is our "flex philosophy." We build small core controls and make them very extensible. We then use the extensibility model to build custom (and optional) features. By limiting the feature set in the core controls, we can keep them lean and fast. At the same time, creating optional extensions gives our customers the features they need. Throughout the last year, we've created many extensions for the FlexGrid and FlexChart, all based on customer requests. Here are some of the extensions we have recently released: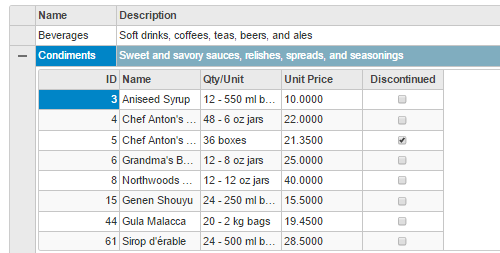 Add expandable and collapsible detail rows with RowDetail
Specialty Controls
Finally, as a sign that Wijmo is really maturing, we have been able to create new specialty controls that leverage our core controls. Most recently, we released MultiRow, a version of FlexGrid that supports complex cell-wrapping within rows. This popular UI pattern in Japan has been made popular by Excel, and with our large customer base in Japan, we were happy to develop MultiRow based on their requests.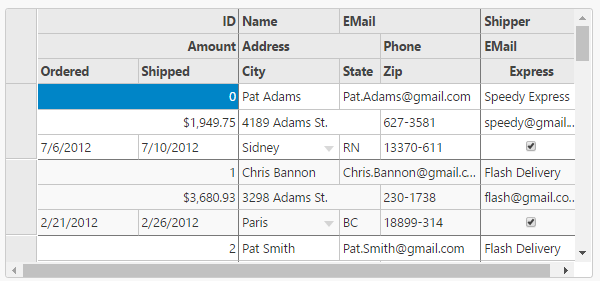 Wrap columns to prevent scrolling with MultiRow We've also released a very complete set of OLAP controls, including a PivotPanel, PivotGrid and PivotChart. This is something that is normally limited to server-side environments, but we have created for client-side applications. Our OLAP controls leverage the power of modern browser engines to create analytical grids and charts based on massive data sets. We also have plans to release server-side support for scenarios where you might still want it. Beyond that, we have released FlexSheet, a spreadsheet control and FinancialChart, a full-featured stock market chart. Creating these controls really pushes the boundaries of what our core controls are capable of.
What's Next?
As you can see, it's been a very productive year for Wijmo. So what do we have planned for the future?
We're going to continue to have a customer-driven roadmap. We'll keep listening to you and developing tools that you need.
We will continue to polish and extend Wijmo as well as offer interop support for new frameworks as they emerge. In fact, we have immediate plans to release module support for Wijmo so you can use our controls in your module loader of choice. We'll support true module loading and are planning on integrating with NPM.
We also plan to develop more specialty controls for reporting and data visualization as well.
Thanks for being a part of Wijmo's history. It's been another great year of building developer tools.