Script 5 - Using Wijmo with Windows Phone 8 Apps It's funny, when GrapeCity acquired ComponentOne last year, my very first demo of the ComponentOne Controls was Studio for Windows Phone. Now, this is the final technical blog of this fiscal year ending March 31 for me, meeting all of my metrics for the year, and it is about the Windows Phone! I have over 70 apps on the Marketplace, so this topic is a true passion of mine. I guess we came full circle, huh? I sat down one day with PM for Wijmo, Chris Bannon, and we took a look at one of the new templates for Windows Phone 8 development in VS 2012. Yes, you guessed it, yet another HTML Client! Guess what? Wijmo works there too! Also, as a side note, C1 provides a Studio for Windows Phone 8 as mentioned above with native XAML controls as well, but we thought we would test this out with Wijmo. Again, HTML Clients are popping up everywhere, aren't they? 1) Browse to the site www.Wijmo.com and try out all of the many controls offered. Everything from Charts, grids, splitters, event calendars, carousel for images, input, tooltips, video and more!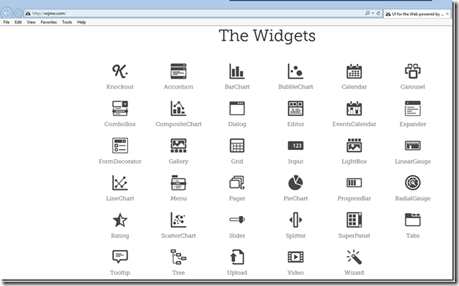 2) Open Visual Studio and select File | New Project | Visual C# | Windows Phone | Windows Phone HTML5 App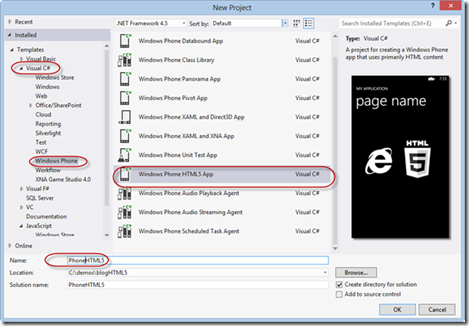 3) Open MainPage.XAML and one of the first things you will notice is that a WebBrowser Control is on the Page. Select it in the designer and Press F4 to bring up the properties. Set the IsScriptEnabled property to true by checking it off.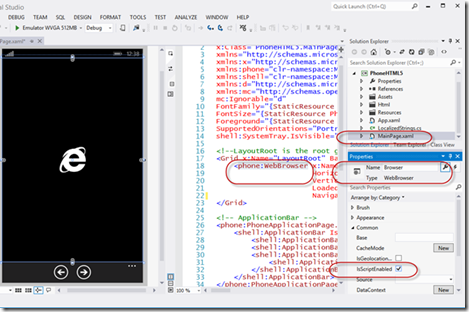 4) Navigate to the HTML folder and open up index.html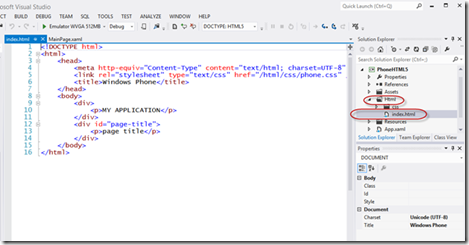 Add links to the dependencies for jQuery References, Theme, and Wijmo Widgets, to your index.html page within the
tags. To do this, you just link to the content delivery network (CDN) file for each project:
Note
: Please reference the latest dependencies from the CDN at
http://wijmo.com/downloads/#wijmo-cdn
.
5) To create the wijcalendar HTML element, place the following markup within the
of the .html document:
6) Now you need to initialize the wijcalendar widget, which you can do by adding the following script within the
tags of the .html document:
7) Run the app in the emulator. The wijcalendar has a predefined configuration of option settings, so it's ready to use as soon as you initialize it. If you opened your project in a Web browser right now, you'd find a completely functional calendar widget, which will look like this: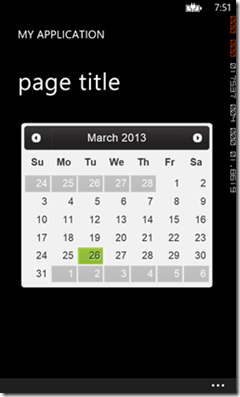 Yes! It is that Simple! 8) You can pass multiple options to a widget. If you need to pass another option to the calendar, just enter it as follows for showOtherMonthDays and displayDate options:
$("#calendar1").wijcalendar({ showOtherMonthDays: false, displayDate: new Date('2010/08/25') });
Adding and customizing a Wijmo widget is that simple. However, this example just scrapes the surface of what you can do with Wijmo widgets. For more detailed information regarding the Wijmo widgets, visit the Wijmo documentation, where you will find an overview and API reference for the individual widgets. If you'd like help getting started with Wijmo Open, see the Wijmo Complete Quick Start. For more advanced examples of scripting, you can also explore our demos page. What's really amazing here, is the code above is exactly what I did in the HTML5 Everywhere Part 1 Wijmo from scratch, in an empty APS.NET Project on an HTML page. Yes, now, the same code can be used for a web site and a Windows Phone 8 app. It's an incredible story to tell! 9) Complete code in index.html should look like this:
<!DOCTYPE html>