In a business organization, managing day to day tasks is tedious when it comes to handling a large number of operations. Thanks to the powerful and flexible controls of WinForms Edition of ComponentOne Studio that makes it possible to design applications of your daily needs without huge efforts. Using the popular FlexGrid, Charts, Scheduler and Input controls, we have tried to cater one such need.
Be More Productive using ManCAP
When there are a large number of tasks to perform, managing things like contacts, schedule and reports becomes hassle. What if there exists a system or an application which helps in keeping everything related to the business in one place. Your contacts, schedule and project reports are all there, making it easy to find what you are looking for in seconds. This will not only save the time but will make you able not to forget the small details. In order to design such system, you would need a fantastic UI with powerful functionalities provided by the controls used in. What if the application could be designed using controls where you need not to code for advanced features like sorting, filtering, creating appointments and data analyzing.
Yes! Wonderful application without coding for the advanced needs.
Controls included in WinForms Edition of ComponentOne Studio makes it easy and handy. Just choose an awesome UI for the controls and the majority of the functionalities in the application will be handled by the in-built features of the available controls. Basically, the application will include three Tabs: Contacts, Schedule and Projects, one for catering each requirement.
A contact is more than just a name and an email address. Using the Contacts tab in the application, you can easily stay connected with your peers and clients.
View Contacts List: View all your contacts in FlexGrid for WinForms.
Add New Contacts: Add new contacts with their specific details like Name, Date of Birth, E-Mail Address, Phone Number and extend the list.
Edit/Delete Contacts: Edit the existing contacts anytime.
Send Mail To Contacts: You can easily send e-mails to your contacts and add attachments with a single click.
By using FlexGrid for WinForms in the Contacts tab, you need not to code for the advanced features like sorting and filtering the list. Just setting two to three properties would do the trick. In addition to this, you can bind the grid to any database making it possible to handle a large number of records in the grid.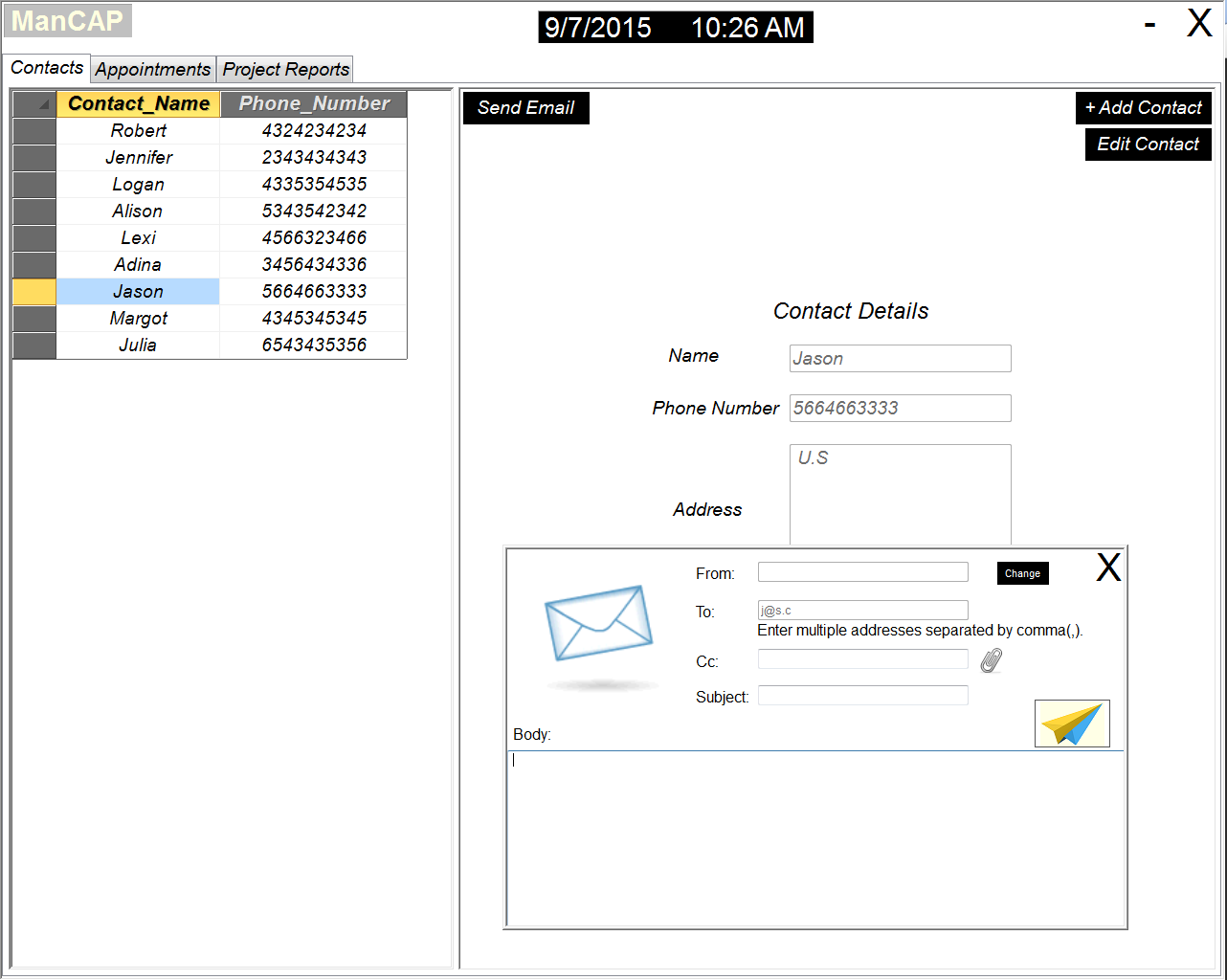 Be Prepared for your Appointments on Time
Being on time is an important factor while meeting any business need. An appointment represents a period of time and detailed information about events that will take place during that period of time. Appointments can span from a specified duration, such as 30 minutes, to multi-day events. Through the Appointments tab in the application, you can see all the important details of a meeting before it happens. Review the details of a project so you are well-prepared.
Never Miss Anything: Be it the birthday of your peers, an event, an appointment or an important meeting, you can easily take a quick look what a day is all about. This leaves any chance of missing a thing behind.
Clear Visual: All your appointments and the events will be presented in an easy to understand visual appearance, than ever before.
In order to accomplish these needs, you can easily integrate completely customized Microsoft Office style scheduling functionality into your applications with Scheduler for WinForms. This would make you able to build intuitive, polished-looking scheduling with ease using the built-in visual styles, data views, and appointment labels. With additional options like drag-and-drop support, customizable dialog boxes, and easy localization, designing the scheduling part would be easier than ever before.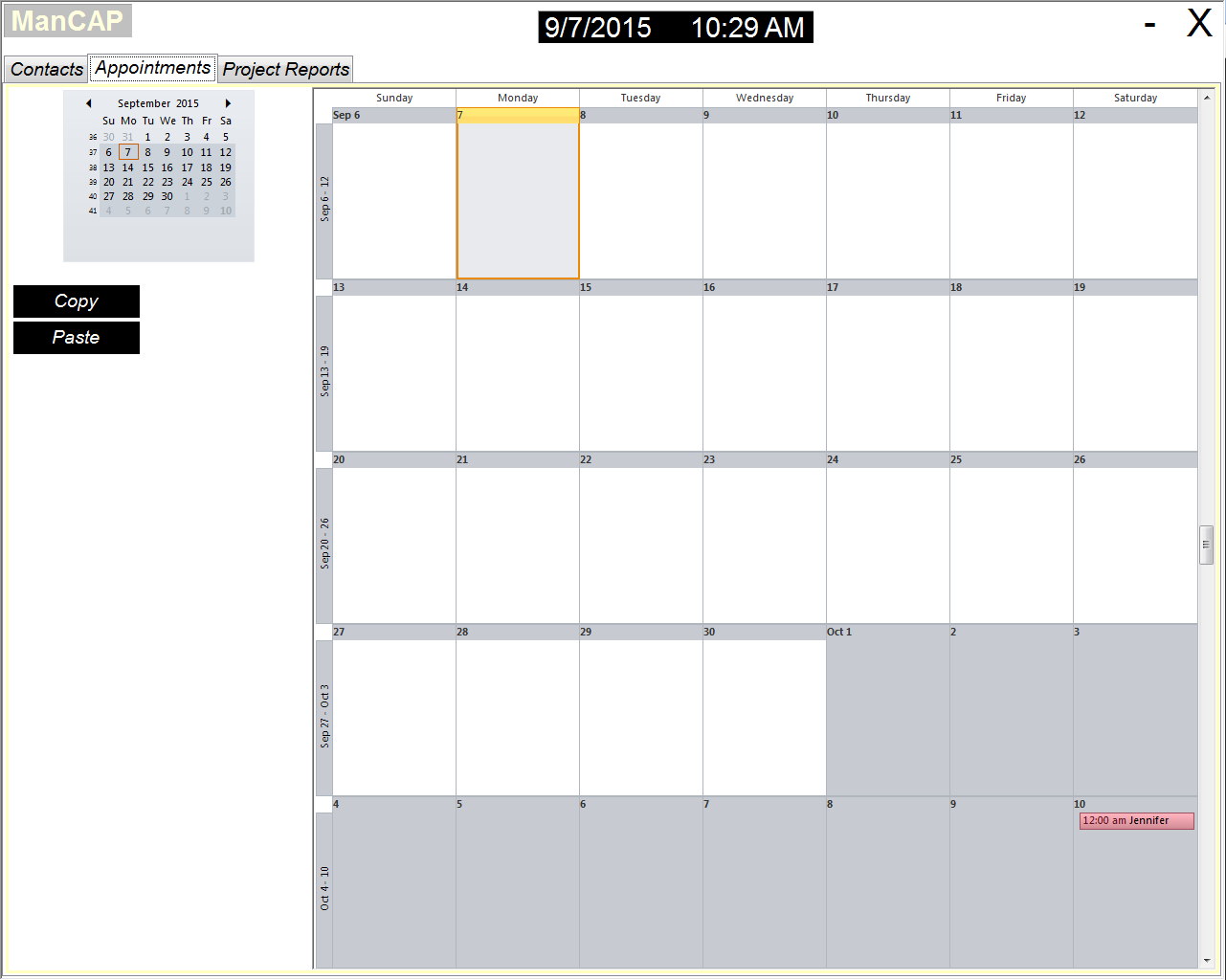 Deliver Projects on Time
Managing the project reports and summary is another important criteria of designing this application. Through the Projects tab, you can easily track the progress of your projects by viewing the pipeline to see what tasks still need to be accomplished and what have been covered already.
Add New Project: Store details like Name, Start Date, End Date, Budget Allotted to your projects.
Edit/Delete Existing Project Details: Edit details of already stored projects.
View Projects Based on their Completion Status: Projects are listed separately according to their completion status which makes it easier to visualize the progress so far.
View Relational Charts for Duration and Budget: View charts for complete analysis of duration and budget Statistics.
Charts for WinForms makes all this possible by providing customizable charting elements, visual effects, end-user interaction, advanced mouse-tracking capabilities, and more. With point-and-click designers, adding data visualization to the WinForms applications has never been easier.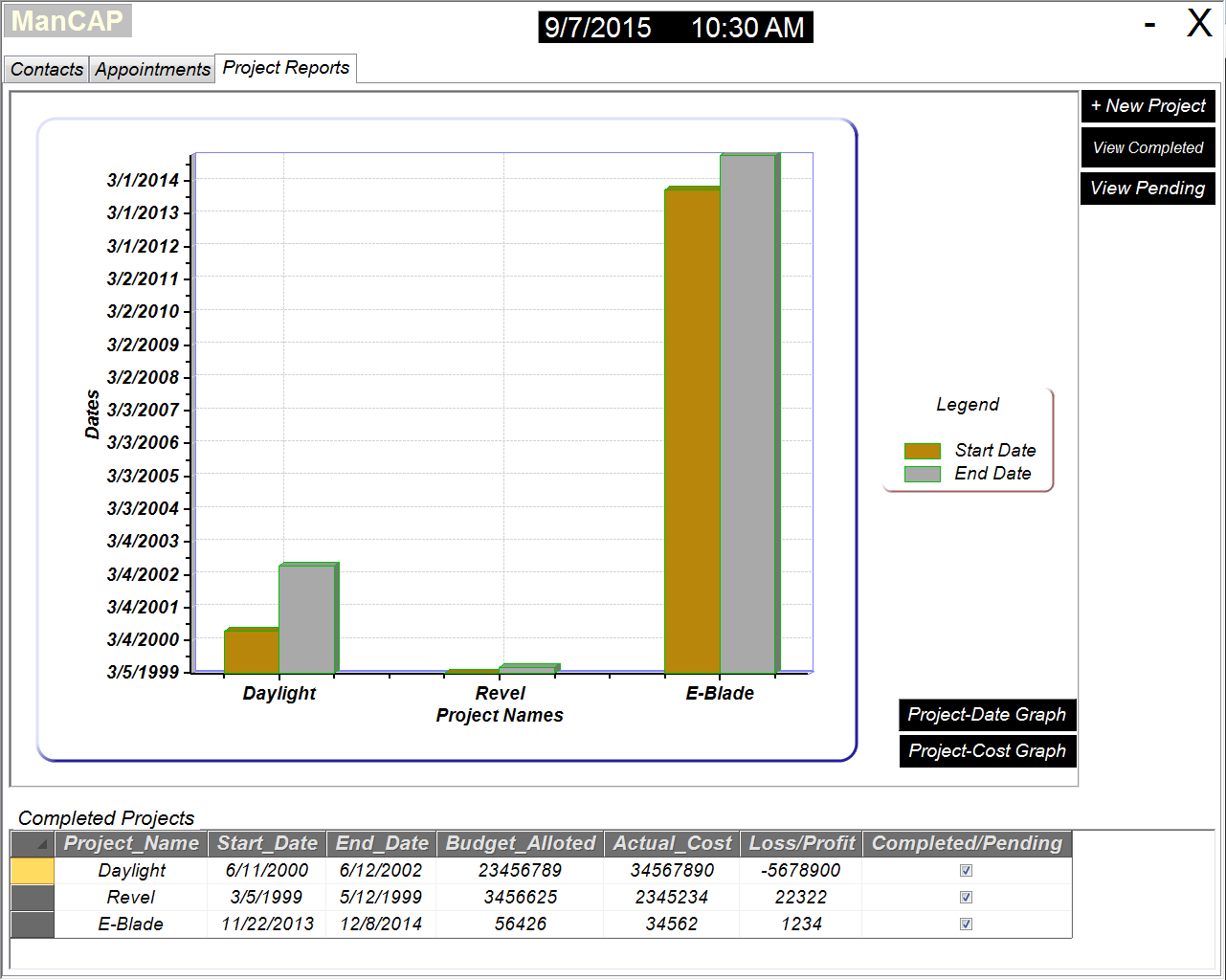 And, this is just not the limit. You can easily enhance and extend the functionalities specific to your organization.
Download Source Code