If you already set up the SMTP server in the Server Configuration wizard, you can skip this first part.
SMTP Server Settings
First, we set up the SMTP Server. In the Administrator Dashboard, in the menu to the left, click Configuration, then SMTP Settings and enter information for your server. For more information about these settings, please refer to Configuring Email in the product help.
Administrator Dashboard Settings
In the Administrator Dashboard, administrators maintain templates to use in report scheduling. Report Portal users with Scheduling permissions can use these schedule templates to add scheduling to each report as needed. Three default schedule templates are provided in the product installation.
As administrator, you can add custom schedule templates using the Administrator Dashboard.
Shared Schedules
In the Administrator Dashboard, select Administration in the menu on the left, then Schedules to display the Shared Schedules screen, then click Add a schedule.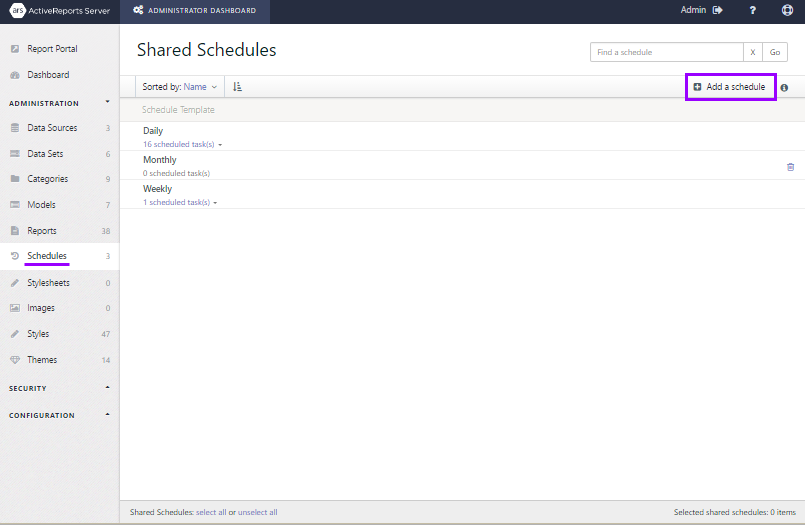 Add new shared schedule wizard
For this exercise, we want to run the Sales Person Performance report and export it to PDF format every Sunday at 12 o'clock. We want to attach these PDF files to an email and send them out. To accomplish all of this, we set the following items in the wizard.
Schedule name
Weekly Sales Performance
Schedule description
Weekly schedule for the Sales Person Performance report
Assign permissions
Select the Sales checkbox and clear the Everyone checkbox
Starting on
Start date and time (in this case, set it to 07/01/2016 at 12:00)
Repeat task every
1 week
On days
Sunday
Result Expires After
14 days
Format
PDF document
Delivery type
Allow user to choose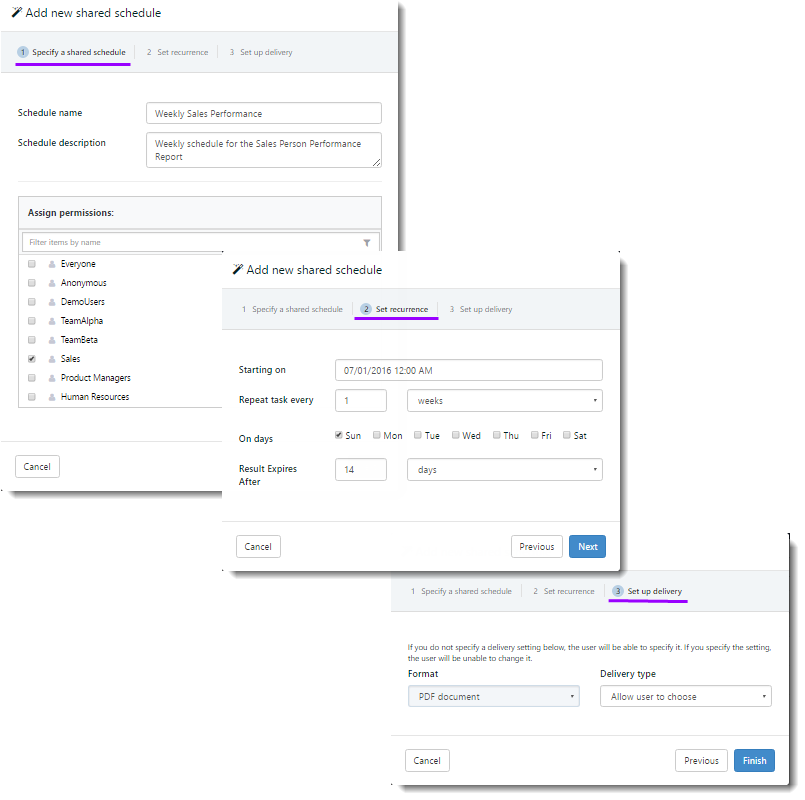 When you're done, click the Finish button. The schedule template is added and appears in the list like this.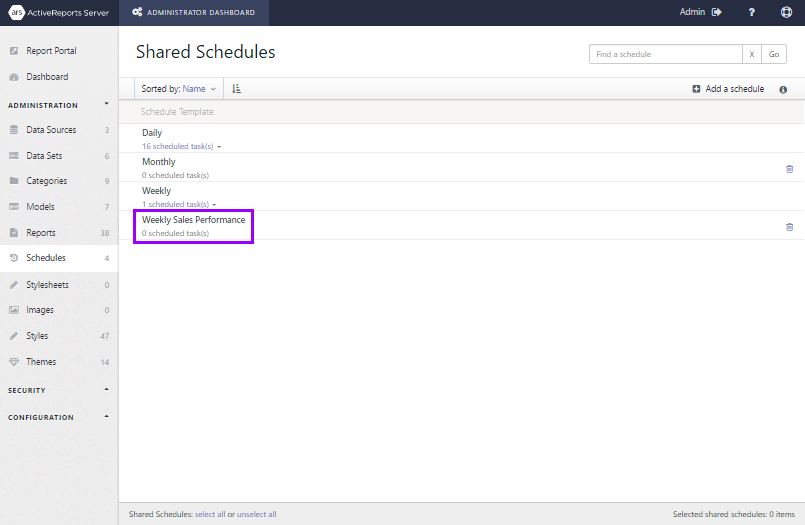 Tip: With ActiveReports Server, you can also schedule reports to save in a shared folder on the server for a specified period of time, and email links to the reports. For more information, see Managing Schedules in the product help.
Back to ActiveReports Server Quick Start Previous: Set User Categories | Next: Scheduling Reports