I'm pleased to announce a 3.5 interim release to follow up on our major release back in November. No major controls—that's coming up in March—but you'll find a some great samples and bug fixes. Here's what's new in ComponentOne Studio:
FlexReport for WinForms
Our new XmltoFlxrConverter sample will simplify the already-quick process of converting C1Report (.xml) files to FlexReport (.flxr) files. With the new utility, you won't have to open your C1Report in the FlexReport Designer one at a time to migrate—you can run the sample, select your batch of XML files, set the output folder, and all selected reports will be converted to FlexReport!
Download sample now >>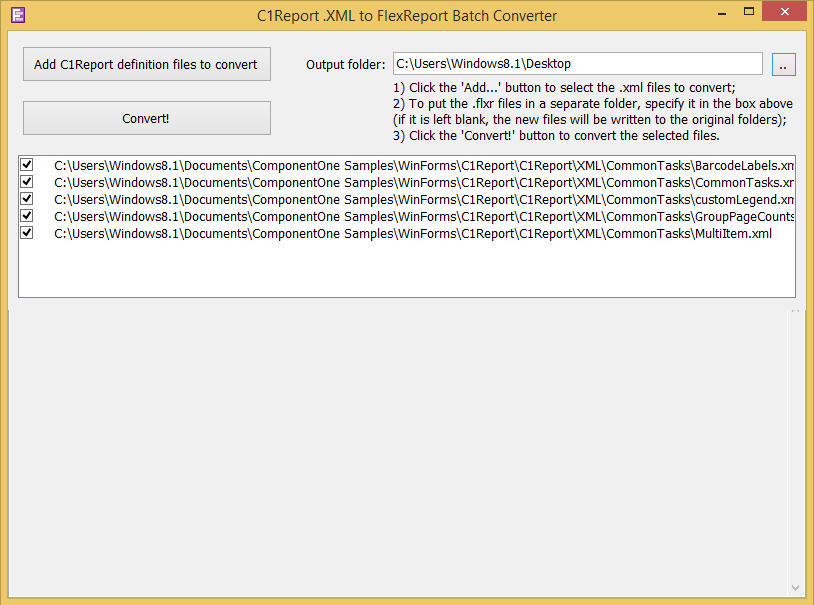 Convert multiple C1Report files to FlexReport
With our new PDF/A support, you can now:

Export SSRS reports to PDF/A
Export C1Report to PDF/A
Set other PDF options on exporting SSRS reports

FlexViewer's new PageRefreshRate property can be set to load FlexReport faster than before.
C1Report and FlexReport both now have new RightToLeft properties, allowing you to adjust the language orientation of the report.
FlexPivot for WinForms
FlexPivot currently supports all data types, but only basic formatting. New custom formats will allow you to create richer formatting for data.
Adding the list of values on the Filter tab in the Field Settings.
---
ASP.NET MVC Edition
FlexGridCustomMerging sample demonstrates how to implement a custom version of the built-in Merge Manager class that allows merging of both rows and columns. It uses a TV schedule to merge programs across weekdays (columns) and showtimes (rows).

Merge cells across rows and up and down columns.
New FlexChart Samples
EditableAnnotation shows how to edit, add, delete and drag annotations with several shapes on FlexChart.
MultiSelect demonstrates how to support the selection of multiple plot elements in the FlexChart. You can Ctrl+Click on plot elements or draw a rectangle on the chart's plot area.
AxisScrollBar displays an Axis Scrollbar so users can change the data range displayed on the chart.
Additions to MVC Explorer Sample
FlexGrid

Added Client Excel load and save
Added PDF export

FlexChart

Panning/Zooming sample
Scaling sample
PlotAreas sample

Gauge
---
Bug Fixes and Enhancements
Click into the individual release histories for details on bug fixes and other enhancements. This is release 2015 v3.5.
---
---