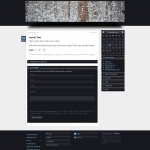 A sleek WordPress theme using Wijmo, an interactive kit of jQuery UI widgets. The Wijmo theme is flexible for use as a blog, portfolio, or general site. Easily change the style using ThemeRoller and a few CSS tweaks. Using the Wijmo Open kit I wrapped common Wordpress elements and pieces in Wijmo to create highly interactive and great looking widgets out of dynamic Wordpress data. The theme also supports dynamic theme changing using ThemeRoller
Some of the wrapped elements include:
Page List -> Wijmo Menu
Header Image - Wijmo SuperPanel
Buttons - jQuery Button
Form elements - Wijmo FormDecorator
Widget list - Wijmo Accordion
Comment list & Reply form - Wijmo Expander
Thanks!
Check out the demo
[downloads query="limit=1&orderby=date&order=desc&category=3" format="4"]
[download id="4" format="4"]