Last Thursday, December 12, I had the opportunity to go to Albuquerque, New Mexico and present at the New Mexico .NET Users Group. My flights were uneventful, checking into the hotel a breeze, and I got a free upgrade on the rental car, all that was left was to meet the group and give them my presentation, "ASP.NET MVC, jQuery, Ajax, EF and some other groovy stuff thrown in". After the typical networking between members, the meeting started promptly at 7:00 pm, with some announcements by the president Tom Murdock. I was expecting a typical length meeting, but had been told just prior that their meetings usually go to 8:30 pm. Uh-oh I think, "two and half hours in 75 minutes". Knowing that I would have less time I sneakily started my presentation a bit early, asking the usual questions I start off with - number of web and windows developers, C# vs. VB, who does their own database admin, etc.
My presentation turned into more of a lightning talk and actually it turned out pretty well. There was still time for audience questions and comments, I was focused on the code and concept so there wasn't any time for tangents, and even had a little back and forth with one young kid who kept teasing me about not using PHP. I was able to tease him back and the whole presentation turned out very enjoyable. And as it turned out, I was able to go until 9:00 pm.
The attendees treat each other like family members, which was great to see. One of the things I noticed, and bumped up my ego several notches was to see many of the attendees taking notes on what I said. I added several more twitter followers, and three people actually commented on my presentation at www.speakerrate.com. Tom has grown a great group and should be congratulated for all his accomplishments. Best of all, they invited me back for another presentation.
All in all, one of the best visits I've had!
Here's some pictures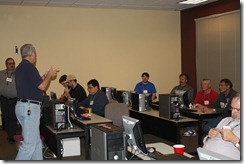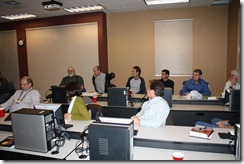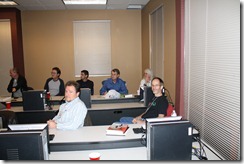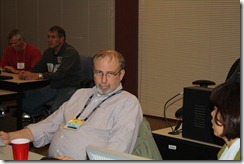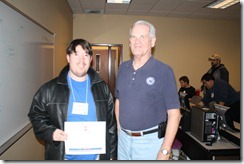 Tom Murdock - right and ComponentOne Studio winner, James Archuleta
Happy Programming
James