The WPF does not have a native "PrintPreview" dialog as it is there in Winforms. In this blog we will discuss how we can use
DocumentViewer
control for print previewing
WPF
Flexgrid
.
The process involves creation of an
XpsDocument
and loads that document using
DocumentViewer
. For this we will modify the PrintingWPF product sample.
Design MainWindow.xaml
Open the
PrintingWPF
sample available at the location
C:\Users\\Documents\ComponentOne Samples\Studio for WPF\C1.WPF.FlexGrid\CS\PrintingWPF
. Add '
Print Preview...
' button along with the '
Advanced...
' button on the Main Window. Double click on the button subscribe Click event.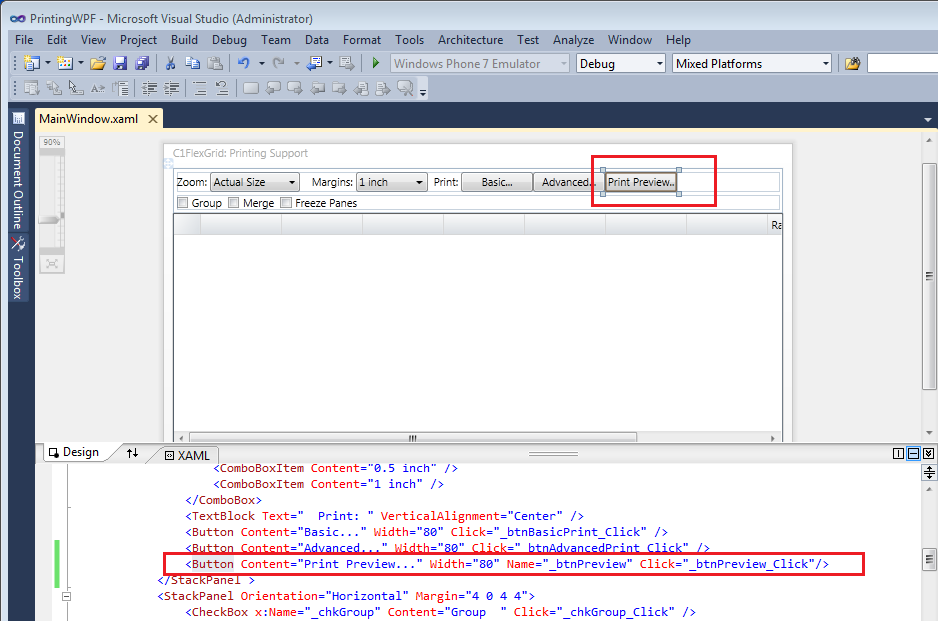 Add References
In the Solution Explorer, add reference to the following class libraries :


ReachFramework.dll


System.Printing.dll


In the Main.Window.cs add the following using directive to code.
using System.Windows.Xps;
using System.Windows.Xps.Packaging;
Adding code for Print Preview
In the Preview button click event, use the following code in which we create an
XpsDocument
containing the
WPF Flexgrid
and view the document
DocumentViewer
, the
DocumentViewer
is then added to a Window object which serves as the
PrintPreview
Dialog :
// printing with Preview
void _btnPreview_Click(object sender, RoutedEventArgs e)
{
 var pd = new PrintDialog();

 // calculate page size
 var sz = new Size(pd.PrintableAreaWidth, pd.PrintableAreaHeight);

 // create paginator
 var paginator = new FlexPaginator(_flex, ScaleMode.PageWidth, sz, new Thickness(96 / 4), 100);
 string tempFileName = System.IO.Path.GetTempFileName();

 File.Delete(tempFileName);

 using (XpsDocument xpsDocument = new XpsDocument(tempFileName, FileAccess.ReadWrite))
 {
 XpsDocumentWriter writer = XpsDocument.CreateXpsDocumentWriter(xpsDocument);
 writer.Write(paginator);
 DocumentViewer previewWindow = new DocumentViewer
 {
 Document = xpsDocument.GetFixedDocumentSequence()
 };

 Window printpriview = new Window();
 printpriview.Content = previewWindow;
 printpriview.Title = "C1FlexGrid: Print Preview";
 printpriview.Show();
 }
}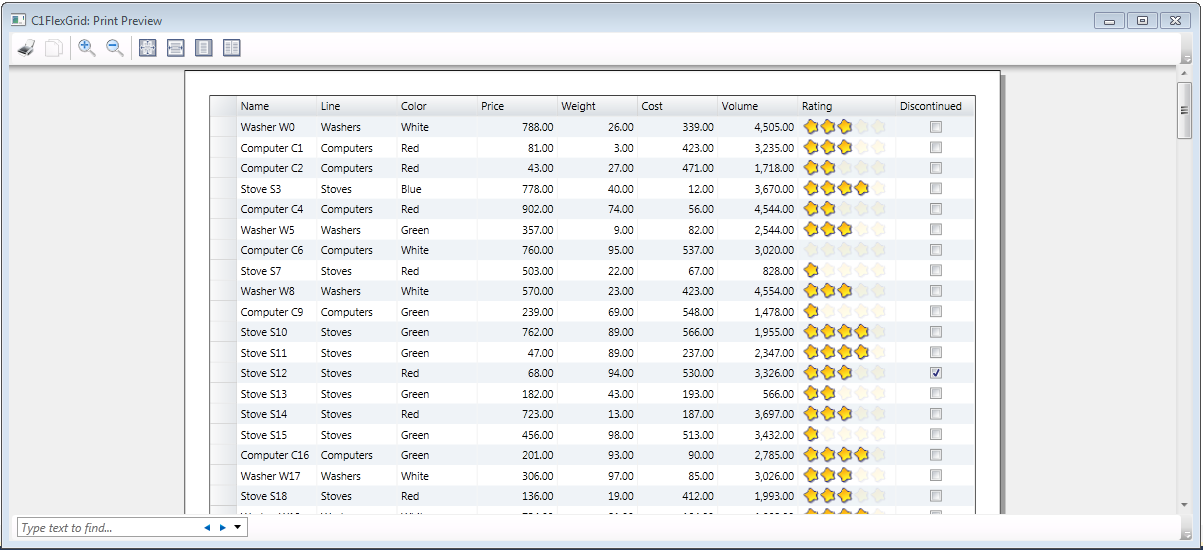 Download Sample