It was a packed house last night, with about 60 people in attendance for the 5 Guys With Code/Swag extravaganza. Everybody loves the corporate guy with a big bag o' swag, and most of the room sent up the "swag signal" (click the photos below for a larger version), which is similar in concept to the Bat Signal, but for free stuff instead of a caped crusader. The right side of the room deserves extra stuff next time for better participation.
This led, naturally, to another completely flawless demo that ran perfectly on time. My talk was a brief introduction to the new SQL CE 4 database, using Web Matrix and the Razor syntax. I've uploaded an updated set of slides at http://helpcentral.componentone.com/CS/evangelists/m/evangelist_gallery/236488.aspx. The slides are in a PDF, and I turned the spoken demo into a series of slides so you can follow along with what we covered. As a bonus, you can see the grid that never rendered thanks to an errant proxy setting in my IE.
Many prizes were given away, including a license for a ComponentOne control suite of choice. This uber-lucky winner was Rod Boggess. Don't forget to call Eve soon, Rod!
As a tribute to my habit of cramming a lot of information into very little time, my former coworker Nate Duchene presented me with the "30 Minute Presentation in 15 Minutes Award". A giant bottle of Mountain Dew, he's very thoughtful. It has a special place on my desk.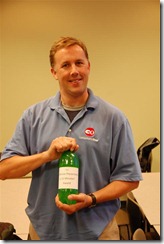 Thanks to Dave Hoerster for organizing another great event!