Download the RussCam by ComponentOne Windows Phone app
to watch all of these videos and have easy access to the
RussCam Daily News
, technical videos and more!  If you don't have a Windows Phone, see all the Russ Cam videos on the
ComponentOne Russ Cam landing page
.
Carve out a half hour and get some popcorn for a very cool, entertaining and professionally edited Episode 100! Thanks to Roger Hobbs who has edited all 100 episodes and this one in particular, which is outstanding!
We went thru all 99 episodes and the video team, Roger Hobbs and Tommy Hodges, and myself hand picked out the best for your entertainment!  Congrats to all of the winners below in some exciting categories! I would like also give a special thanks to all of the interviewees on Episodes 1-99, you all deserve an award as well! Finally, to everyone, thanks so much for supporting RussCam!
I would also like to thank ALL of Special guests in this video, listed below, for making an heart felt appearance in this episode. My video editor surprised me with these special appearances and I am so appreciative!
WATCH VIDEO – CLICK HERE
: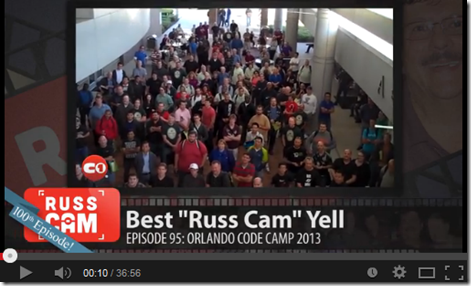 Special Guests:


Max Trinidad


Luis Perez


Rachel Terman


Michael Stark


Esteban Garcia


Ed Buhain


Dave Noderer


Karen Slosaski


Adnan Cartwright


Carl Franklin


Kevin Wolf


John Dunagan


Winners!Biggest RussCam Yell:
Orlando Code Camp 2013
Most Influential:
Mary Jo Foley, Scott Hanselman
Best Interview:
Tim Huckaby
Best Announcer Voice:
John Papa
Best Promo:
Tommy Hodges
Funniest Clip:
Joe Healy
Most Unique Russ Cam Yell:
Luis Perez and the Windows Phone User Group in Tampa!
Best Dev Diversion:
Karla and Rodney Landrum, the Landrum family, Ryan Duclos, Shawn McGehee and some red snappers.
Best Florida MVP Interview:
Nikita Polyakov, Max Trinidad, and Brandon Kelly – MVP Summit 2012
Best Fustino Family Cameo:
Billy Hollis
Most Energy:
Rachel Terman, hands down!
Most Scenic :
Costa Rica SQL sat 133 , Alex Funkhouser, Joe Healy at Jaco Beach
Best Gift:
Tom and Pam Oeser , the hard hat continues!
Best Tribute:
Carl Franklin and Richard Campbell, produced by Roger Hobbs! With Shervin Shakibi.
Best Non-Brand:
John Smith
Best MVP:
Ted Neward
Best Special Effect:
Ed Buhain
Most Historic:
Dave Noderer and Karen Slosaski
Most Reminiscent:
Chris Bowen Boston code camp where it all started.
Best Beach:
Bill Reiss and mention of Chris Woodruff  and Jim Duffy recipes. Also with Nikita Polyakov, Amber Osborne, Kevin Wolf and John McFetridge
Best Landmark:
Hoover Dam with Carl Franklin and Miguel Castro
Most Educational:
TechEd speaker idol 2013 with Judges, Stephen Rose, Billy Hollis, Paula Januszkiewicz, and David Giard along with winner Jessica DeVita
Best Beer Suggestion:
Bill Steele
Best Intro:
The return of the wolf, Kevin Wolf
Best Mustang and Cat Video:
Keith Rowe
Best Outtake:
Mark Goldberg
Original RussCam Yell:
Alex Funkhouser