Russ got the call from David Giard of INETA the other day. He told Russ that he won an award from INETA. Russ said, "No kidding? Which award?"
David said,
"The Lifetime Achievement Award"
and went on to say that this is a rare award with only a handful of winners since INETA started. Russ said "I am very honored to get this award!" After checking the
list of previous winners
, he thought, "To have my name included with Scott Spradlin, Kevin Hazzard, Chris Pels, Bill Jonas, Dave Noderer, Julie Lerman, Bill Evjen, and David McCarter is really special. I am
extremely
honored!
Russ has had an incredible career, with over 20 years as a programmer, 15 years as a developer evangelist for Microsoft, and now as a developer evangelist for Microsoft partner ComponentOne, a Division of GrapeCity. Russ said "I won top developer presenter awards a few times at Microsoft, but this Lifetime Achievement award tops them all! I am so excited! "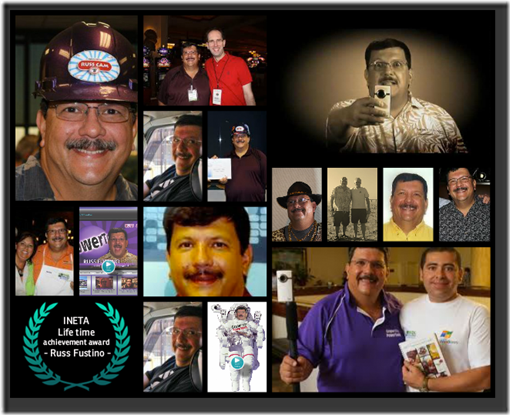 Click on the above image
to see a cool video biography narrated by Carl Franklin of .NET Rocks. It's a
mini documentary about "Why you should watch "Russ Cam™!"
Some of the film's highlights include:
· Russ in The Code Room pilot which was seen by 500,000 on PBS Affiliates.
· Russ caught in action tossing out swag and copies of Visual Studio to his live studio audiences.
· Russ' Toolshed TV show "It's All About the Tools" with over 400,000 downloads.
· See who wrote the "Russ ToolShed" theme song.
Hats off to Roger Hobbs and Tommy Hodges, the video team at ComponentOne, for the great job they do on all of the C1 videos.
Three times in his career, Russ did 40 events in 2 months (MSDN Events, on-sites and user groups). It became known as a 40-in-2. Russ says "My first Boss at Microsoft was Rick Greene, and he gave me a case or Heineken for that accomplishment." The last time Russ did a 40-in-2 was in 2008 on the Microsoft DPE East team, which Russ says was loaded with talent. "We won an award and a trip to the Bahamas! Sweet!"
Russ has shaken more hands in the developer community than he can remember. "That's what it is all about: building relationships. Localization and personalization are the keys to developer evangelism." Russ has traveled all across the country from Silicon Valley to Portland, Maine, down to Key West, Florida, as well as internationally, building that developer love, which has been a passion of his since day one. When Russ started at Microsoft in 1997, they did not have a list of developers and they did not even know who that community was. He helped build that list along with an incredible Marketing team headed up by Anthony Salcito. Russ' team, headed up by Rick Greene, was called ADCU (Application Developer Customer Unit), and included Bob Familiar and Larry Barnes of the Bob and Larry Developer Show, Mike Cramer, Jim Vacca, Steve Chmielewski, Steve Carbone, Raheel Retiwalla and Tom Snow. Russ and his team members were instrumental in molding the Developer Evangelist role as we know it today.
Russ has helped many user groups get off the ground in New England, and facilitated many groups in Florida. He even started a couple of INETA groups of his own. He remembers one evening in February when he helped Julie Lerman kick off her VT User Group in 10 degree weather. "Man, was that cold!"
He also recalls his first MSDN Event in Tallahassee, when he said, "You should consider having a UG here, and I will kick it off and buy the pizza." Keith Rowe put his hand up to help out. The rest is history.
Russ has many similar stories on other User Group births. He has given out a lot of software in his career, and has educated thousands. He has his own company, too, Russ' ToolShed Network, which is an app company with over 70 apps in the Windows phone marketplace, and app development for the Store on Windows 8.
Russ has been a longtime supporter of INETA and all they do for the developer community. He says "I really appreciate all of their efforts. INETA is awesome!" In fact, he has a few photo albums and RussCam episodes featuring INETA summits.
This is a classic:
Episode 71: INETA Community Leadership Summit
Some highlights include:
· Russ stopping by the INETA Community Leadership Summit to chat with Chris Eargle, director of speakers, and Ken Tucker, who chats about his user group in Melbourne, Space Coast User Group.
· Cameos by Dave Noderer and Alex Funkhouser, and outtakes photos with Esteban Garcia, and Greg Leonardo.
· Alex's user group starting at the bar with script club to follow (pretty funny).
· Richie Rump does the Russ Cam yell.
You can also find INETA Summit, Orlando 2012 photos
here
.
Russ has been to quite a few INETA summits over the years, as well as MVP summits, RD summits, TechEd, Build, PDC and leadership summits. He is happy with the relationships he's built over the years and always looks forward to seeing old friends. Sometimes it is non-stop. After hanging with him at their first event together, ComponentOne GM Rick Williamson said "Who don't you know?"
Russ also has some photo albums from last year's MVP summit and RussCam interviews at the legendary MVP Party with Palermo.
·
Russ Cam Episode #47 (Video)
/ MVP Summit Party with Palermo Part 4
Caleb Jenkins, Dave Noderer, Pat Tormey
·
Russ Cam Episode #46 (Video)
/ MVP Summit Party with Palermo Part 3
Martin Hinshelwood, Christopher Bennage, Keith Kabza, Mike Benkovich, Steven St. Jean
·
Russ Cam Episode #45 (Video)
/ MVP Summit Party with Palermo Part 2
Nikita Polyakovx Trinidad, Brandon Kelly
·
Russ Cam Episode #44 (Video)
/ MVP Summit Party with Palermo Part 1
Jeffery Palermo, Ted Neward
· See
photos of the MVP
Party with Palermo 2012
Needless to say Russ enjoys photography and has posted thousands of photos from various events in the developer community. See his latest albums on ComponentOne's
http://www.facebook.com/RussellCamTV
and his video series, RussCamTV, at:
http://www.componentone.com/RussCam/
Russ never thought one of his claims to fame would be to have recipes in two cookbooks, but he does, in
.NET Gurus Can Cook
! V1 and V2! Special thanks to Don Williamson for heading up this effort. Russ looks forward to making more videos with Don on cooking! See them all on
.NET Gurus Can Cook Facebook Fan Page
.
Russ says, "The most gratifying part of being a developer evangelist is seeing the light bulbs go off as the audience learns something new. Thanks to all of those who have connected with me in the very large, but somehow very small, developer community. Paths always cross it seems. Also, a big thanks to the great teams I have been a part of and awesome managers, including my current boss Kevin White, who is incredible. Eve Turzillo, Shay Williamson, Don Williamson and Leanne Lappe round out the team and I don't know what I would do without them. I have worked at Microsoft, GrapeCity and now ComponentOne, and want to thank all of those teams, attendees, influentials and the developer community at large, especially the Shed Heads!"
Subscribe to the
ComponentOne RussCamTV Daily
News, with his feeds from over 300 Interviewed Influentials.
Russ will be starting up a new blog and webcast series called 'Windows 8 – Using Studio for WinRT XAML'. Keep checking his blog at:
http://our.componentone.com/author/rfustino/
and follow him
@russcamtv
.
Facebook Fan Pages:
http://www.facebook.com/RussellCamTV
Facebook:
http://www.facebook.com/russell.fustino
Linkedin:
www.linkedin.com/in/russfustino
Twitter:
http://www.twitter.com/russcamtv