Fast, Flexible .NET Chart Control
Enhance your data visualization with 100+ charts, interactions, and elements for enterprise apps
Available in:
Desktop: WinForms, WPF, UWP
Web: ASP.NET MVC, Wijmo JavaScript
Native Mobile: Xamarin
Download Free Trial

(v 20173.1.8)
Benefits
Speed your development time with this full-featured cross-platform chart control
80+ chart types
From basic line chart variations to radar and polar charts, we're striving for full parity with Excel
Universal API
FlexChart's intuitive shared object model allows you and your team to shorten your cross-platform learning curve
Small footprint
FlexChart's assembly is less than 500 KB for WinForms, WPF, and UWP
Fast and high-performing
Engineered for top performance, FlexChart won't slow down your business apps
Flexible data binding
Bind your charts to static arrays and dynamic lists from any data source
Pixel-perfect rendering
With DirectX and GDI+ rendering in desktop and SVG in web, your charts have never looked better
Bar & Column Chart Types
Stack data points in a column chart.
Compare the percentage that each value contributes to the total.
Line & Spline Charts
Area Charts
Step Charts
Scatter Charts
Bubble & Financial Charts
Pie & Sunburst Charts
Radar & Polar Charts
Specialized Charts
Labeling
Make your chart's labels easier to read by displaying them at an angle.
Customize the range of selected numeric data.
Annotations
Place custom markers in a variety of shapes and options on a chart.
Edit annotations in a live chart with editable annotations. Available in WinForms, WPF, and UWP.
Samples: WinForms | WPF | ASP.NET MVC
Highlight ranges within a chart with zones.
Interactivity
Data and Analysis
Display your axes labels in a concise, clear format without sacrificing accuracy using scaling formats.
Use trend lines to show trends in data and make predictions.
Create different plot areas for different series within a single chart area.
Formatting and Customization
Change the position of your chart's axes using the Position property.
Make your chart effective and appealing by reversing its axes.
Export and Printing
Export your charts to PNG, JPEG, or SVG.
Export your charts to XML, Binary, or JSON formats.
FlexChart includes print support.
Demos
Web Demos
ASP.NET MVC Control Explorer: Core | MVC
Web API
Based on ASP.NET technology, FlexChart can be hosted as part of HTTP services (ASP.NET Web API or RESTful).The client applications (HTML/JS, MVC, mobile or native) can call the web service for creating chart images through code and display and export thereafter. Read more
FlexChart for JavaScript is available in Wijmo.
What's New in 2017
FlexChart adds 16 new chart types:
Histogram
Ranged Histogram (same as Excel histogram)
StepChart variations: line, symbol, and area, all with stacking and rotation
FloatingBar and Gantt chart, as samples
Several small feature improvements/enhancements as well, mostly requested by customers:
LegendGroupings: Group legends together
Styling for lines in Line Marker
Built-in drilldown support in hierarchical charts: Sunburst and TreeMap
SaveImage in FlexPie, Sunburst, TreeMap to be at par with other chart types
Editable annotations
What's New
View Roadmap
Recent Blogs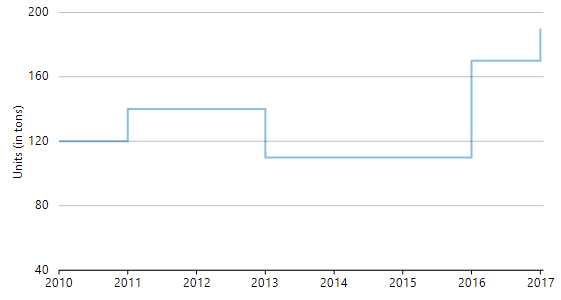 Line and area charts are simple yet powerful ways to represent trends in data, but they're not the best fit for data that changes at irregular intervals with constant data segments between those changes. This is where Step charts — a chart type in which data points connect in a step-like progression — come into play. With the addition of three new chart types in ComponentOne's 2017 v3 release of FlexChart, you can now better visualize this kind of data with FlexChart.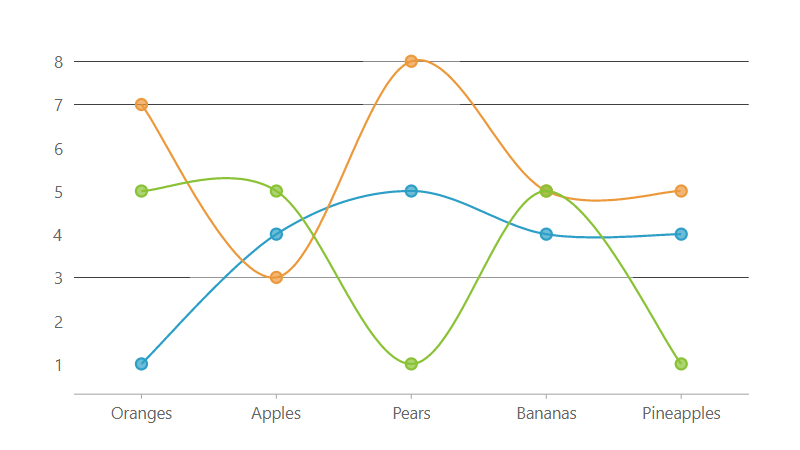 Charts are all about the impact that they should leave on the target audience: Did it convey the intended information? Was it actionable? Was it good enough to facilitate key decision-making? One makes minor visual changes in different chart elements (colors, fonts, position, text formats, tooltips) to meet the end goal of having a chart that makes an impact on its audience.
Introduced with the 2017 v2 release of ComponentOne Studio, TreeMap charts are the latest addition to FlexChart for WinForms, WPF, and UWP. Specifically designed to visualize hierarchical data, TreeMap makes use of nested rectangles to display values. An alternative to the node-link representation in traditional tree diagrams that we're all familiar with, TreeMap is a compact and less space-consuming option for displaying hierarchies to give a quick overview of your data's structure.
While many of the examples you'll see in the FlexChart demos and documentation are geared toward quarterly sales reports and dashboards, you can take your charts out of the financial sector. Any section of your business that needs to report on results will find FlexChart useful, but a Marketing department might make heavy use of Line, Bar, and Pie charts. These charting options can help track the effectiveness of any departmental strategy in the long-term, and the effectiveness of a single campaign in the short-term.
The ComponentOne Studio FlexChart's addition of Funnel chart—an excellent tool for summarizing data—enables your users to quickly visualize stages in a linear process. Most often it's used to show sales processes to pinpoint potential problem areas, but we'll see in this blog that the uses can be extended far beyond sales. Any funnel consists of the higher part called head (or base), and the lower part is referred to as the neck. The values displayed are in progressively decreasing proportion and amount to 100% in total.