Posted 14 May 2020, 1:20 am EST
Hello,
as I have found out marker box only shows information about a point which is closest to the mouse cursor position. This makes sense but not always.
Sometimes users only want marker to show information as per vertical position of cursor. For better understanding please see the attached screenshot: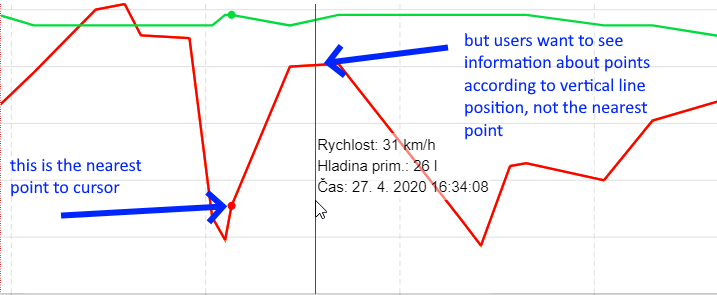 In here definitely points to the left from cursor position have the least distance (and their values are used for marker content). But from users point of view it would give much more sense to show values which are crossing vertical marker.
Seems like FlexChart when making HitTest only cares about total distance (both X and Y coordinates). I would like it to care only about vertical distance. Is this possible to achieve?
Hope you understand what I mean.
Thanks!