← Back to Press Releases
OutSystems Releases a Fast and Lightweight Data Grid Powered by Wijmo
Press Release
Feb 19, 2020
OutSystems of Portugal releases a data grid incorporating GrapeCity's FlexGrid.
Pittsburgh, PA – February 19, 2020 GrapeCity, a global provider of enterprise software development tools, is pleased to announce that OutSystems has released a powerful new data grid component powered by Wijmo, the JavaScript UI library from GrapeCity. OutSystems is a low-code development platform for visually developing large-scale, enterprise-oriented web and mobile apps. Applications are produced in a visual designer without writing source code, and everything from development to maintenance is managed on one platform. It has lifecycle support features such as version control and performance analysis. OutSystems has extensive experience working with large companies in the Japanese automobile manufacturing industry.
This new data grid from OutSystems allows users to view and edit data in an environment much like Microsoft Excel. The grid component leverages GrapeCity's FlexGrid, a lightweight, easy-to-use, and very powerful component. FlexGrid is part of Wijmo, a JavaScript UI library for enterprise development. Wijmo includes business-critical components such as grids, charts, inputs, and more. Wijmo is well maintained and integrates with modern JavaScript frameworks like Angular, React, and Vue. Wijmo is designed to save developers time when building amazing applications.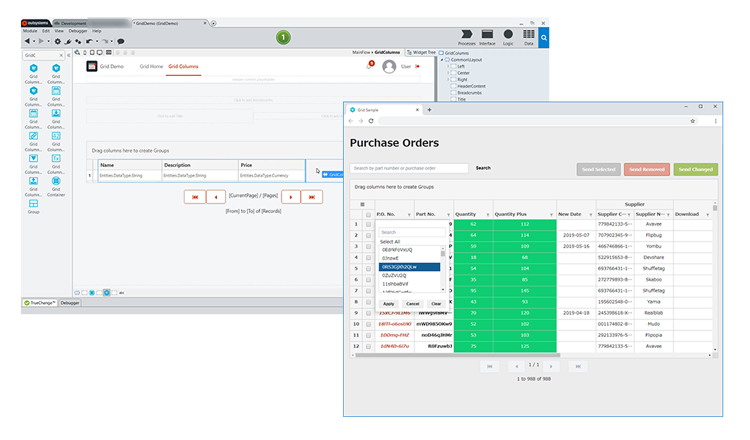 "We are very excited to be partnering with GrapeCity to provide innovative, state-of-the-art components that allow OutSystems customers to build data-centric applications fast," said Márcio Spínola, the VP of Product Management at OutSystems. "In a world where the amount of data organizations create and manage is growing exponentially, this partnership is a natural choice for us as we empower enterprises to more easily tap into their data to grow their business."
GrapeCity prides themselves on their close relationships with customers like OutSystems. GrapeCity is a vendor that has been providing components to business application developers for more than 30 years. GrapeCity will continue to support Outsystems' partners globally to help enhance their low-code development platform.
"We sincerely welcome that GrapeCity's Wijmo was used for OutSystems' DataGrid. We required Excel-like features in using OutSystems and had been requesting its implementation. Thanks to GrapeCity partnering with OutSystems, we have been able to leverage Excel-like features in the first release of the DataGrid. The DataGrid is fast, light, and easy to use. We look forward to new features being added so that it will be easier to use and improve development productivity," said Mr. Inagaki from Toyota Motor Corporation.
For further details, visit OutSystems.
About OutSystems
Thousands of customers worldwide trust OutSystems, the number one low-code platform for rapid application development. Engineers with an obsessive attention to detail crafted every aspect of the OutSystems platform to help organizations build enterprise-grade apps and transform their business faster. OutSystems is the only solution that combines the power of low-code development with advanced mobile capabilities, enabling the visual development of entire application portfolios that easily integrate with existing systems.
You can find more information about OutSystems here.
About GrapeCity
GrapeCity is an award-winning Microsoft Gold Certified Partner and one of the world's largest providers of developer components. For over 30 years, GrapeCity has provided enterprises around the world with state-of-the-art developer tools and components, software services, and solutions. Recently, the company has expanded its product lines to include JavaScript. GrapeCity has added Wijmo, a complete suite of enterprise JavaScript components, as well as ActiveReportsJS, SpreadJS, and DataViewsJS. The company has more than 850 employees and hundreds of thousands of customers worldwide.
For more company information about GrapeCity, visit our website.
###
All product and company names herein may be trademarks of their respective owners.