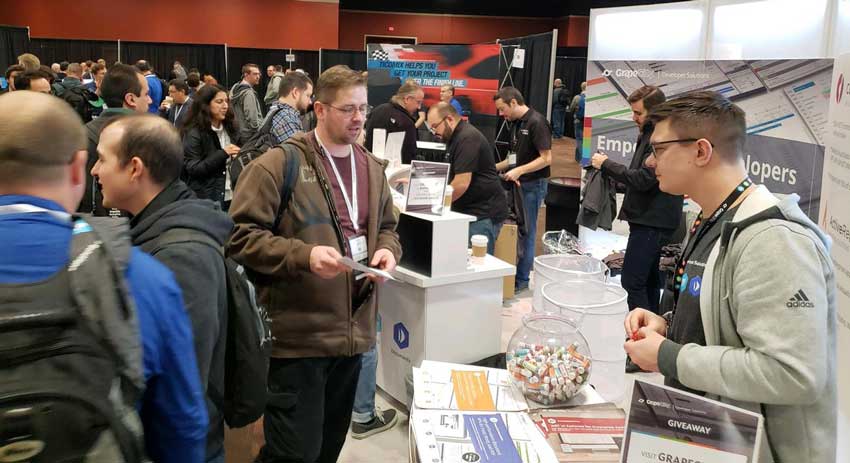 Thie year's DEVintersection, held at the MGM Grand in Las Vegas on December 3 - 5, was a fantastic experience filled with a large crowd, great food, a fun atmosphere, and informative sessions. I enjoyed attending the conference and speaking with the conference attendees about the great things happening at GrapeCity. The GrapeCity booth crew were all blown away by the great response we received from so many attendees. We spoke to a wide variety of developers, DBAs, and IT professionals from all over the world. Many of them were even our current customers who gave us praise and feedback on our products!
DEVintersection: Day 1 (sort of)
The first day of DEVintersection did not involve much work from us, as we spent most of the day traveling from Pittsburgh to Las Vegas. When we arrived in Vegas after what felt like an eternity, we checked into the MGM Grand and checked out our booth in the expo hall. We had a two-part station, consisting of a large structure on one side, and a smaller stand on the other side. Both components of our sponsor booth were decked out in swag, including chap stick, pens, shirts, pop sockets, USB fans, and more. We also had information on each of our products to hand out to all those who wanted to learn more about our product lines. After making sure everything was in order for the next day (the official expo opening), we went out to dinner and enjoyed the atmosphere and unique experience of Las Vegas.
DEVintersection Day 2: Tuesday
After a good night's sleep, we were ready to head down to the expo hall and kick off the first day of the conference. The first half of the day flew by because of how busy we all were. We had a steady rush of attendees all morning when everyone wanted to get the best of the sponsors' swag and enter their name for a chance to win the prize we raffled off—a DJI Spark Drone! Little did they know; however, that we were saving our most valued swag (shirts) for Day 2, so as not to run out of the good stuff on the first day.
Lunch came in the form of a meal reminiscent of Thanksgiving, including turkey, mashed potatoes, cranberry compote, short ribs, stuffing, and vegetables. Everything was delicious, and we appreciated the renewed energy we had from eating such a great lunch. In the afternoon, we had an exciting activity. Our very own Greg Lutz was scheduled to deliver a talk on data visualization. Given my passion for all things reporting, that was a talk that I was not going to miss. Greg covered a wide spectrum of data visualization tips, techniques, and general information.
Greg kicked off his talk about the importance of data visualization to communicate large amounts of data clearly and efficiently. He broke down data into two categories, quantitative and categorical, and ourlined good data visualization practices for representing both types of data.
Key data visualization points I took away from Greg's talk:
Do:
Use line and area charts for showing continuous data over time
Use area charts over line charts if you want to stack
Use bar charts when there is a distinct difference in the values
Use scatter charts to identify patterns in large data sets
Use maps only is spatial arrangement is important
Don't:
Don't use line charts and area charts for showing change between different categories, unless the order of those categories is meaningful
Don't stack line charts
Don't use bar charts for very large (ungrouped) data sets
Don't use scatter charts if you could use bar, line, or area charts
Don't use multiple Y axes
Don't use 3D charts (unless the data is meant for 3D visualization)
Ask:
Who is the target audience for this visualization?
What will the audience want to learn from it?
What are the alternatives?
What is the story/big picture?
As someone who works with data visualizations in reports every day, I found Greg's pointers not only interesting but useful. His talk was intriguing, and I was glad I took the time to learn more about data visualization. The other members of the audience were engaged, asked questions, and left with some helpful knowledge.
The rest of the day was spent talking to conference attendees about GrapeCity, handing out swag, and entering more people into the raffle to win the drone. The first day of DEVintersection was exhausting due to the sheer amount of people who wanted to get their hands on some GrapeCity swag and learn more about what we do, but speaking to all the interested conferencegoers made it worthwhile. That night, we went to dinner and called it an early night to catch up on the lost hours of sleep from the previous night and time zone difference.
Day 3: Wednesday
The last day of the conference was busy in the morning! We brought out the GrapeCity shirts we had been saving for the final day. The demand for the shirts was so high that we ran out of men's shirts after about an hour. By then, we were just about depleted of our swag. The only things we had left were some pens and chapstick. We spent the day talking to the attendees who hadn't had a chance to stop by on Tuesday and hanging out with the other sponsors of DEVintersection. Lunch on the second day was just as good as the first day: delicious, filling, and just we needed to finish the conference strong. We packed up everything to be sent home shortly after lunch and got ready for the giveaways at the end of the show. Many of the attendees won Xbox Ones and Surfaces. Other lucky attendees won the sponsor giveaways. After our lucky winner received the DJI Spark Drone, we headed out of the expo hall to the airport, sad to part ways with another successful DEVintersection.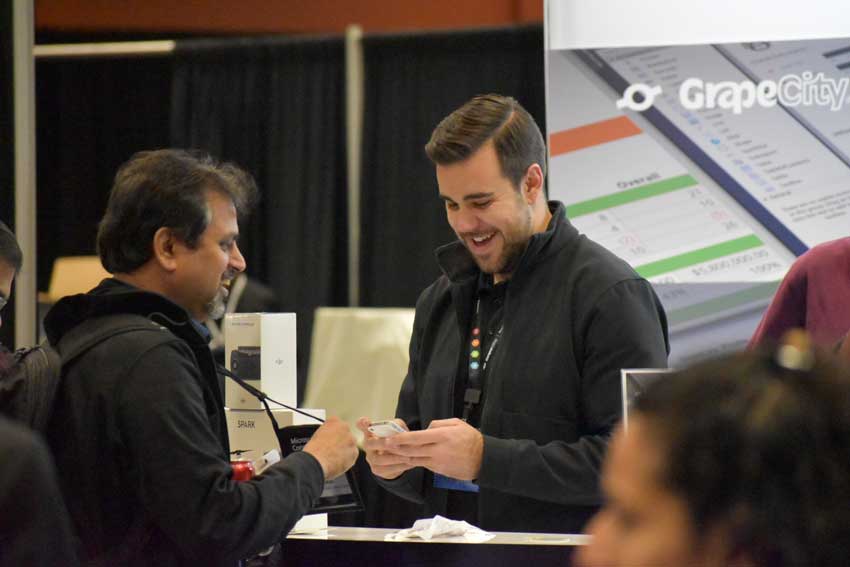 DEVIntersection was a great experience to network and connect with other developers. The attendees were grateful for us to be there,and we were happy to be representing GrapeCity at such a fantastic conference.
Any questions about GrapeCity's upcoming events? Email us at evangelist@grapecity.com or comment below!