The ComponentOne Excel Viewer 5.0 release has arrived! We've created a new appearance and added some valuable features. Both will help you to view your Excel files easily and smoothly.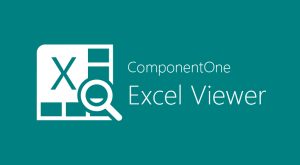 New Appearance You'll enjoy the Modern UI style appearance in the Excel Viewer.
Snap Now you can snap the Excel Viewer on side of screen, then you can use Excel Viewer and other app in one screen at the same time.
Search Use the Charm Bar to search content in the file you are viewing.
Share Now you can use the Charm Bar to share the file you are viewing through other applications which support sharing. For example, you can directly email an Excel file by sharing with your favorite mail client.
Visit ComponentOne Excel Viewer for more details and to access the download information. Enjoy!