I love a good PM tool, and no PM tool is complete without a Gantt chart—those looooong horizontal spreadsheets that express the full life of the project, with estimates for each phase or task. Dependencies and predecessors are a vital component to the estimate; after all, if task 1 was estimated at 3 days and will now take 8, then Task 2 is going to be delayed, as well. Here's a quick look at how your users can quickly assign predecessors in the GanttView for WinForms task information dialog box. Here's your garden-variety Gantt chart. In this example we'll make the Project Management task dependent upon Define Initial Scope. (Not a wise choice IRL, but let's roll with it.)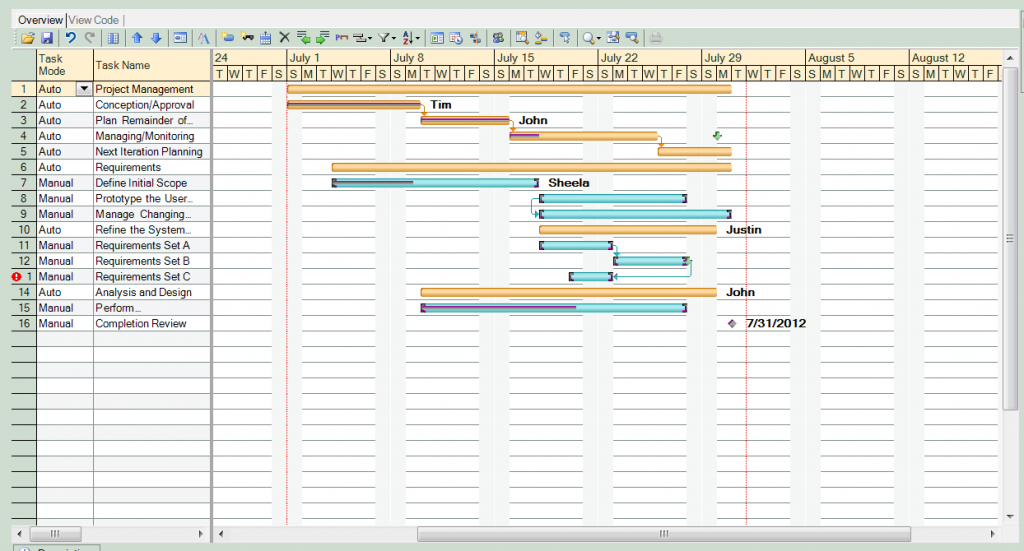 Your garden-variety GanttView chart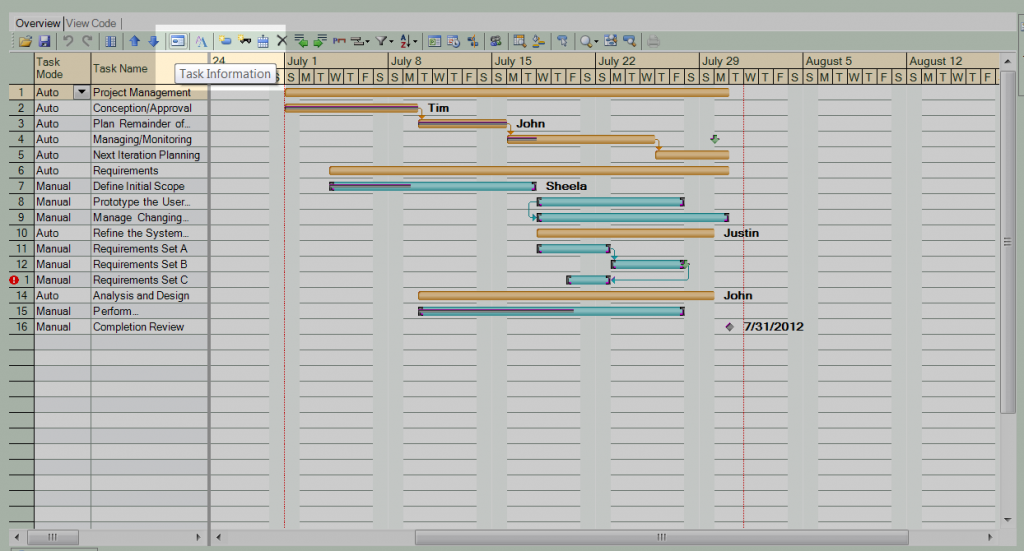 If you look closely, it actually looks like the dialog box. Handy!
Click the Predecessors tab in the task information dialog and click ADD.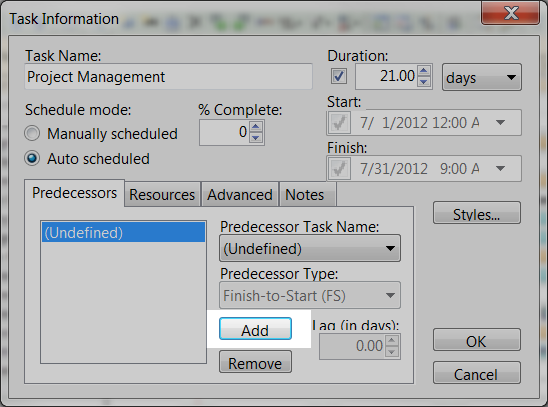 ADD! It'll show as Undefined at first, so here's where you have to, you know... define it.
Click the Predecessor Task Name.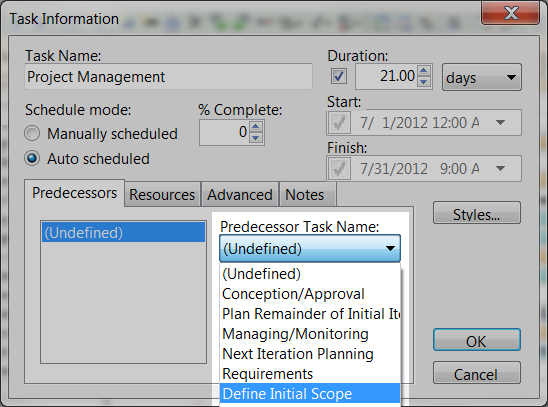 Define the definition of define!
Next, select the the predecessor task type.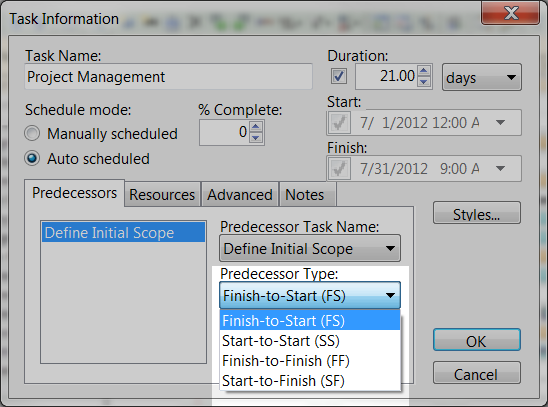 Wait, what?
Defining Predecessor Types: Finish-to-Start, Start-to-Start, Finish-to-Finish, Start-to-Finish
Finish-to-Start: Default setting. The successor task (Project Management) cannot begin until the predecessor task (Define Initial Scope) is completely finished.
Start-to-Start: The successor task can begin any time after the predecessor begins, plus the lag. So if our lag is two days (and it will be), the Project Management task begins two days after Define Initial Scope begins.
Finish-to-Finish: The successor task cannot finish until the predecessor task is finished. That means they can overlap, but unless you've finished defining the scope, PM can't be done.
Start-to-Finish: The predecessor task's start date determines the finish date of the successor. The tasks may overlap but Project Management cannot be finished until Define Initial Scope begins. Not a common circumstance, but it could happen.
Next, define the lag time between tasks.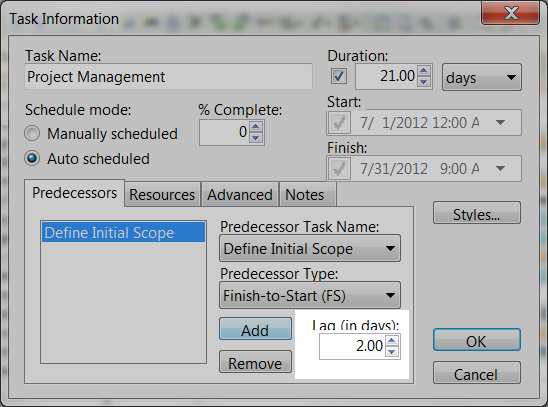 I'll need two days to finish those TPS reports before I start on the PM, Phil. Click OK. You'll see that PM now starts only after Sheela's done defining the initial scope.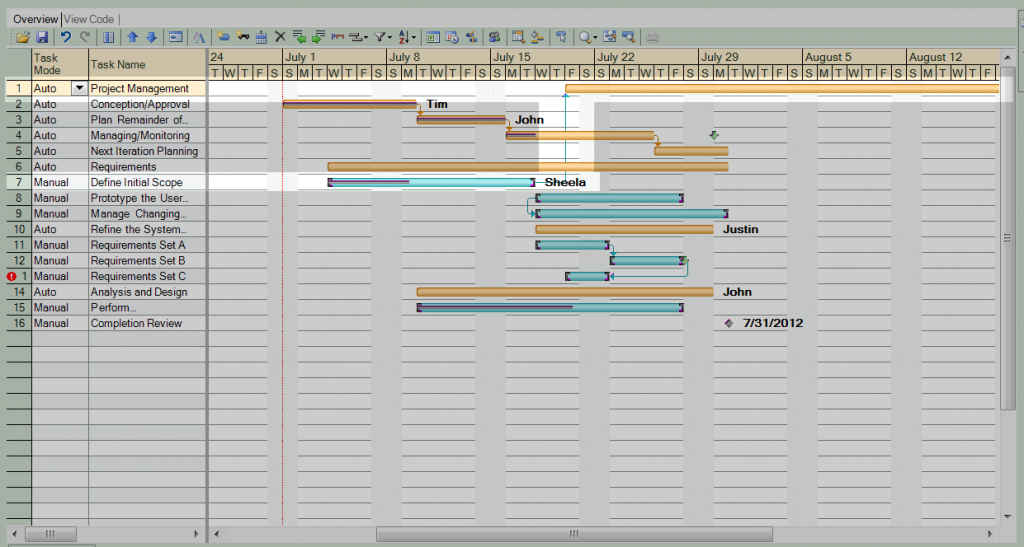 Get to it, Sheela! There you have it: a quick walk through of how your users can set dependencies and predecessors in their Gantt charts. All out-of-the-box! Read more about setting predecessors in our documentation >>