The 2015V1 version of ASP.NET WebForms Edition has been released, with this release we have renamed "Studio for ASP.NET Wijmo" Web Forms version to ASP.NET Web Forms Edition, with 2015 V1, we are also releasing new MVC controls with ASP.NET MVC Edition. In the Web Forms edition we added new features for charting and scheduling controls, also the GridView now has a lean mode for faster rendering. Let's go through the new features one by one. You can see the features in action by clicking on the images.
EventsCalendar
Custom View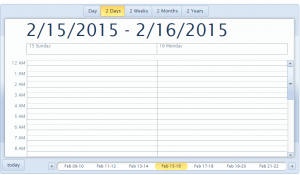 Create custom views in EventsCalendar with ease, now you can define your own views like two weeks or two months view by updating the views option of the control.
Export
Export the EventsCalendar as PDF or image using an export service, the exported file shows events and UI of the EventsCalendar control.
HTMLCharts
Chart Navigator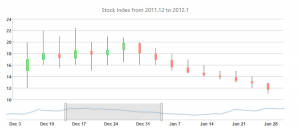 Create Overview Plus Details using charts and our new ChartNavigator control. The ChartNavigator control lets you zoom over a certain period using the range slider, you can also show a hint about time period as you slide. The chart navigator can be used with Bar\Column charts, Line\Area and CandleStick charts.
GridView
Conditional Dependency
The grid now has a conditional dependency property which when set results in faster rendering. If this property is set then the grid registers JS\CSS for only those features that it requires and thus resulting in faster rendering. Please refer to the documentation for the properties & features affected by this setting. Download your copy of ComponentOne Studio and select Web Forms to install the ASP.NET Web Forms Edition.