It's September: Service Pack time!
See What's New in V2, released July 2016
---
FlexChart
The new Sunburst chart is now available in all platforms (WPF, UWP, WinForms, MVC, LightSwitch). Sunburst or multi-level pie chart is used for visualization of hierarchical data. The circle in the center represents the root node with hierarchy moving outward from center. A segment of the inner circle is a parent to the segments of the outer circle which lie within the angular sweep of parent. Sunburst chart for WPF, WinForms, UWP, MVC
RangeSelector, AxisScrollBar, and LineMarker were available as samples in v2; they're now full parts of the control.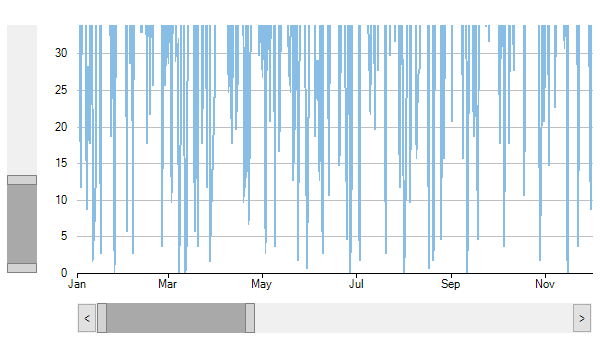 AxisScrollbar for FlexChart
ASP.NET MVC
New: Unobtrusive validation support in MVC Input and FlexGrid controls: Data annotations (validations) in models are now seamlessly applied to the controls in the view. FlexGrid shows red borders around cell for invalid entries, and validations can be displayed inside a span for input controls. This feature is dependent on jQuery, but the MVC controls themselves do not have any dependency on jQuery.
UWP
FlexReport for UWP now supports export to HTML.
New: PdfDocumentSource uses UWP-based features to display PDF documents.
FlexViewer for UWP now supports rotate view (90/180/270).
WinForms
FlexViewer for WinForms now supports rotate view (90/180/270).
---
Complete Release Histories
---