Russ Cam™ travels to Wisconsin for an awesome Day of .NET! In part one of this 2-parter, Russ catches up with
Greg Levenhagen
, Senior Software Engineer & Azure Architect at Skyline Technologies. Greg talks about his Kinect session at the event. Then Russ talks with the VP of FVNUG,
Keith Burnell
, about the exciting things going on at the event. Then, it's another MVP on Russ Cam!
Damon Payne
, Client App Dev Microsoft MVP, talks with Russ about his cleverly titled session, "Every JavaScript developer is now a Windows 8 developer?" Plus, Damon tells us about how he used ActiveReports! Cameo by Microsoft DE
Dave Bost.
This episode is brought to you by
ActiveReports
.
CLICK HERE for Episode 60 – FVNUG Day of .NET – Part 1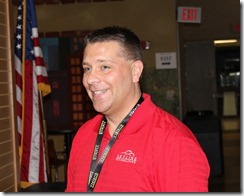 Keith Brunell – Conference organizer