Hello Magic City!  I had a great time at last night's BugDotNet meeting, or as I'll now refer to it, "The Night of Three Full Moons":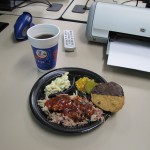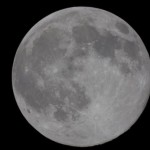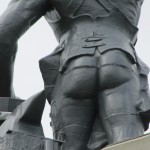 Admittedly, this is some local humor, and technically the third one is the "moon over Homewood", but it counts.  Todd Miranda arranged for delicious
Full Moon BBQ
, and a plate of chopped chicken, pulled pork, potato salad, pickles and chow-chow is a great way to kick off a meeting! It's not often I have a cup of sweet tea to sip on when I'm speaking.  There was a full moon last night, and for some reason, the iconic statue of Vulcan, which stands on Red Mountain watching over Birmingham, has an exposed derriere.
I've been looking forward to this trip for a while—many of you know I'm a Bama alum, and I lived in Birmingham for many years before moving to Pennsylvania.  My wife and brother are also Bama alums.  I've been to over 30 cities this year, and this is the first time I didn't need to turn the GPS on to find my way around (my hometown of Louisville revamped the downtown area a great deal, so I got a little turned around on our way to codepLOUsa).  Alamo hooked me up with a Nissan Cube, which is the only car weirder looking than my Element back home.  Fortunately, I'm used to driving  a toaster with wheels.  I'm staying in the same hotel my family stayed in when my brother and sister-in-law were married.  If you're into numerology, my rental car was in space 19, and I have room 19 at the hotel.  Spooky!
BugDotNet
meets at New Horizons, and I apologize for mixing up rooms with the SharePoint group, I just went where I was told.  I presented my
Rocking WebForms with jQuery talk
, the link will take you to the slides and sample projects.  We took a little diversion into ASP.NET Dynamic Data, and how to rock out field templates with UIHints and Wijmo.  The Wijmo Stock Market sample I showed is at
http://demo.componentone.com/ASPNET/wijmarket/stocks
; a late breaking blog post with the story of our Studio for MVC Wijmo is at
http://our.componentone.com/2011/06/13/the-ultimate-ui-tools-for-mvc/
. 
Follow us on Twitter
, where we'll break the news of our upcoming Studio for ASP.NET Wijmo.
After the meeting, I was talking with Claude about Dynamic Data, and his concern is that his app is .NET 2.0, while Dynamic Data is .NET 3.5.  There is a common misconception here, so let me explain a little.  There are only three supported versions of the .NET CLR (Common Language Runtime) today--1.1, 2.0 and 4.0 (support for 1.1 will be ending soon).  The CLR is the set of base classes and functionality we think of when we say "dot net".  .NET 3.0 and 3.5 are poorly named--they are not additional versions of the CLR; they are instead a set of extensions
to
the 2.0 CLR.  Basically, they're extensions for .NET 2.0.  You can use .NET 3.0 and 3.5 without changing form the 2.0 runtime.  So all that coolness we talked about can be implemented in your existing projects, even in VS 2008.
Todd and I talked about putting on one or more
Web Camps
here in Alabama, and we'll start working on that.  Gee, wonder what we'll eat?  Pants will be required of all attendees.
Thank you to everyone who came last night, especially the number of you who made the 70 mile trip from Tuscaloosa.  Congrats to Bryan Carmichael from the University of Alabama (Roll Tide!) for winning a ComponentOne Studio tonight! (not rigged—Todd drew the winning number)  I look forward to coming back soon!