Stock Visualizations for .NET Apps
Instantly create stunning, advanced stock trending visualizations with the powerful FinancialChart for ComponentOne Studio.
Includes nine specialized, hard-to-find financial charts
Built-in calculation engine
Available for WinForms, UWP, WPF, and ASP.NET MVC
* FinancialChart is only available in ComponentOne Studio Enterprise and Ultimate.
Download Free Trial

(v 20173.1.8)
Benefits
Develop advanced stock dashboards with FinancialChart's specialized data visualization
9 specialized chart types
Includes complex financial charts such as Heikin-Ashi and Kagi
Fast and high-performing
Engineered for top performance, FinancialChart shaves precious seconds off load time
Full dashboard support
Add multiple charts to a single dashboard
Built-in calculation engine
Advanced charts include built-in data calculation
Cross-platform .NET support
Includes full support for WinForms, WPF, UWP, and ASP.NET MVC
.NET Financial Chart Types
Chart Features
Mark important events at specific data points
Indicators
This indicator measures volatility by accounting for gaps and limit moves.
This oscillator measures a security's variation from the statistical mean, which identifies cyclical trends in commodities, equities and currencies.
Overlays
These volatility bands are placed above and below a moving average, and base the volatility on the standard deviation. When volatility increases, the bands widen; when volatility decreases, the bands narrow.
Formed by two moving averages that define upper and lower price range elvels, envelopes identify extreme overbought and oversold conditions.
Fibonacci Tools
What's New in 2017
FinancialChart includes one new chart type, Point and Figure.
We've also added a new FinancialChart sample for indicators and overlays, which allows users to:
View stock price data for any desired chart type
Change the chart type at runtime
Display technical indicator for the selected stock
Display multiple indicators (maximum 3) at the same time
Render overlay series on top of current chart
Draw annotations for any data point
Zoom in and out
Download the WInForms & WPF Demo Explorer
What's New
View Roadmap
Recent Blogs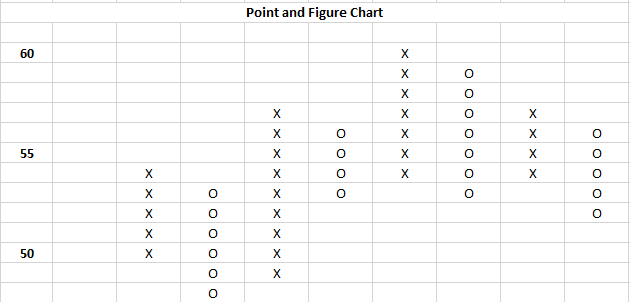 Point and Figure is an age-old charting technique that was very popular before the invention of computers because of its objectivity and how simple it is to plot. With growing technology, other charting methods were made easier, and this classic paper-pencil method took a back seat. However, timeless charting has recently gained importance again, creating a renewed and growing interest for Point and Figure charts. With the 2017 v3 releases of ComponentOne Studio Enterprise and Wijmo, our FinancialChart control now lets you take advantage of timeless charting with Point and Figure charts.
Work with patterns in candlestick chart in a real-life example.
ComponentOne Studio's FinancialChart control comes with built-in support for four types of Fibonacci tools that can be applied to a price or an indicator. These tools helps to analyze trends in the price chart and predict the next price. When the price goes up, they act as resistance levels, and vice-versa.
Noise removal is a vital aspect of active trading: traders need to avoid interpreting false signals, and have a clear picture of overall trends. In this blog, we'll look at what's considered noise in stock trading, and how ComponentOne Studio's FinancialChart control can help developers eliminate noise in financial applications.
ComponentOne Studio's new FlexChart control handles your charting needs for modern visualization and faster rendering. With 2016 v2 release, we've gone a step further to cater to your industry-specific charting needs and included a brand new control: FinancialChart (in beta), built on top of FlexChart control.